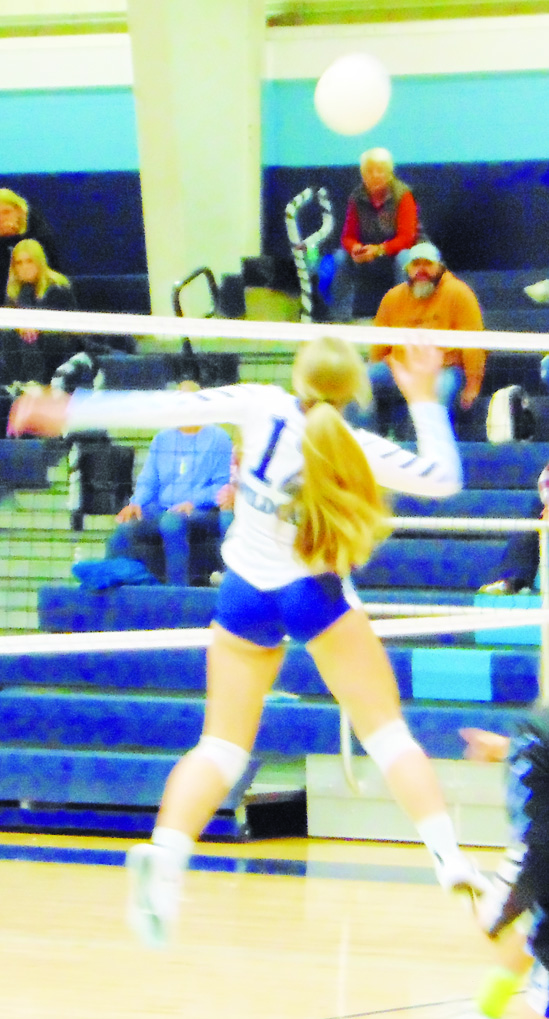 By Stephen Smoot
Coming in winning nine of their last 15, including a victory over Triple A Preston, Elkins looked like a team gaining momentum. Last week, however, Elkins's strong run fizzled as the Wildcats blanked them three games to nothing.
Although they lost to Pendleton County last month, Elkins used disciplined play to build its record and also enjoyed strong wins over double A Grafton and Fairmont Senior. The Wildcats, however, opened strong against the solid Tigers and never looked back.
Game one opened with Avery Townsend serving the ball and Arianna Young serving up one of her signature spikes. Young was earlier recognized on the team's senior night. The Wildcats burst out to a 3-0 lead until Elkins took advantage of miscues to drive out to a 6-4 lead.
Then Pendleton County's athletic front line took over. Kate Hedrick blocked a spike attempt. On a Jenna Smith serve, Young fired a powerful and untouched spike at the defense. Hedrick followed that play with a spike of her own. Two plays later, a Baylee Beachler spike put the Wildcats up 10-8.
Coach Rod Cooper said after the game that "we block well at the net. We've worked really hard on that."
Elkins tried to keep it close, tying the game again at 13-13. Elizabeth Alt's serving helped to drive a 6-0 run that also featured a Townsend spike. Elkins ground out a 9-5 run to pull within 24-22, but a Hedrick spike off an Alt set closed the door on the Tigers.
In the second game, the Wildcats shifted into another gear. Previously this season, Pendleton County had dominated inexperienced competition. Against Elkins, they demonstrated their capability against a strong team.
Elkins brought discipline and patience to the game, extending volleys, using sets, and minimizing mistakes. They could not contend with a Pendleton County squad that played with mounting aggression and power as the game went on.
"They're all doing whatever it takes to get better," Coach Cooper explained.
The second game opened with the Wildcats staking a 4-0 lead at the outset. Spikes by Beachler and Gabrielle DePue combined with an ace by Townsend set the tone of the match. Elkins scored by finding the Wildcat back line to come within 4-2, but gave up six straight as Beachler launched two aces and Hedrick two spikes.
Pendleton County steadily widened the lead as Elkins miscues turned into Wildcat points. During the run, Alt helped her team score on two taps at the net and an ace. Elkins never even came within shouting distance of the lead. A Beachler ace ended game two at 25 – 12.
In game three, Pendleton County opted again to start with Townsend to serve. She and Young, who added two spikes, put the Wildcats up first for the third straight time. The Wildcats continued to rely on line drive serves and powerful spikes to maintain an aggressive tone. The Tigers shrank back from the attacking Wildcats.
Young, Beachler, DePue, and Hedrick consistently launched spikes at the Elkins defense, along with tremendous serving by Townsend, Alt, and Smith. After the Wildcats extended their initial lead to 17-3, Elkins took advantage of miscues to go on a 10-5 run, but never got back in the game. A Hedrick and Beachler block sealed the win for the Wildcats, 25-13. 
Coach Cooper described how he and his staff have been "preaching hustle and effort and they gave it to us tonight."
Results from Monday night's game against Tucker County and Tuesday's game against Moorefield were not available at press time. The Wildcats travel to Keyser tonight to take on the double A Golden Tornado. Keyser lost early in the season to the Wildcats 3-2. They lost to mutual opponents East Hardy, Moorefield, and Petersburg as well.