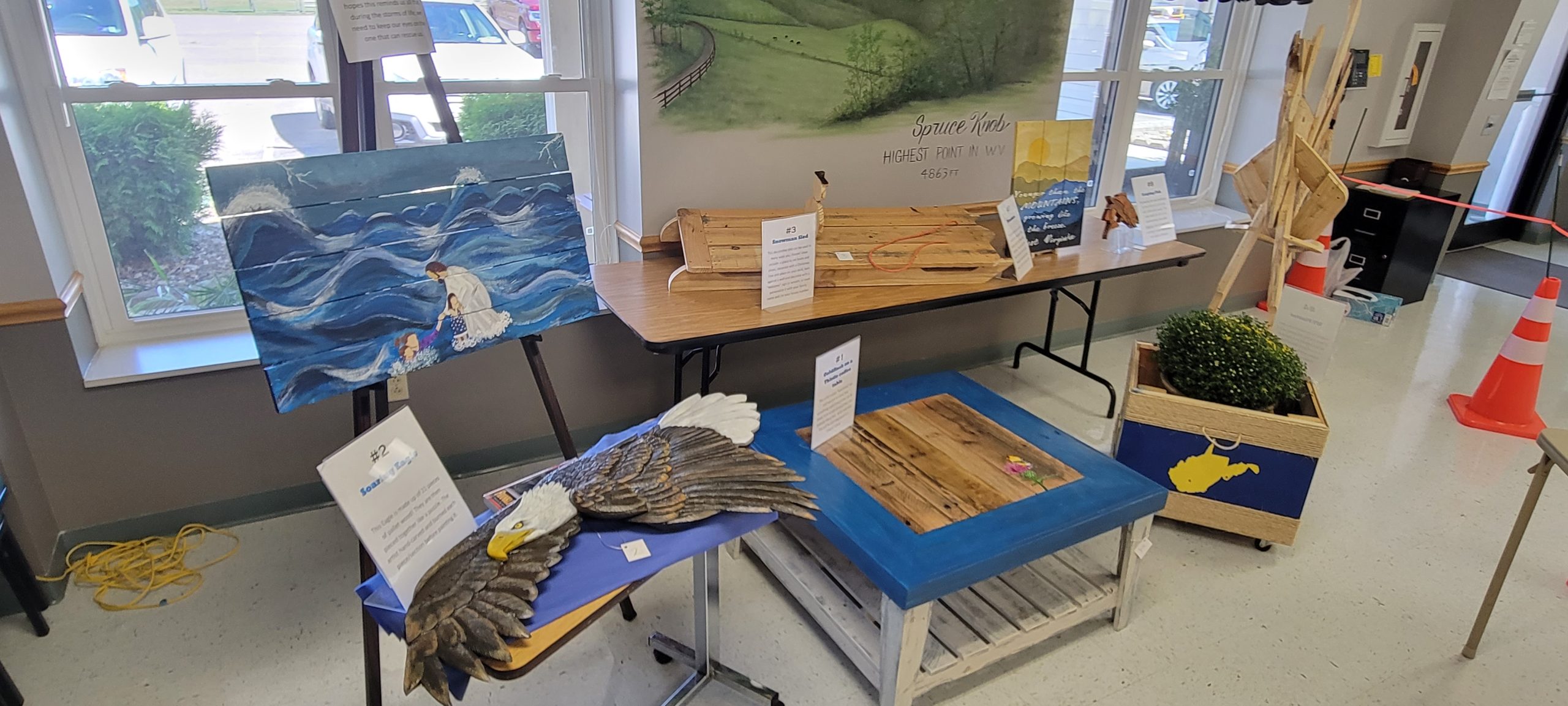 By Stephen Smoot
The legend of Treasure Mountain shares how Killbuck and his Delaware Indians left in the woods a cache of treasure that sits somewhere in the surrounding ridges waiting to be found. 
Pendleton County Senior and Family Services didn't sit and wait for someone to find it, but called on area artists to manufacture their own for the ultimate benefit of those who rely on the center's services every day.
Months ago, Janice Lantz and center staff worked to come up with ways to supplement the center budget to support services. Since 2021, inflation in food, fuel, labor, and other costs have hit non-profit social service agencies as hard as small businesses, farms, and families. As Lantz explained, "Senior centers across the state are all struggling with the nutrition program." 
She added that "it's a lot based on the fact that we've gotten no funding increase," and that every county has had to work creatively to make up the shortfalls.
They came up with the pallet art contest as a way to raise money and also further involve the community in the activities and success of the center. 
Earlier in the year, they announced the contest through social media and the Pendleton Times. "In our first year, we were hoping for 10 and got eight. They ranged from very rustic to very refined."
Lantz added, "Each of them has their own uniqueness."
Eight artists constructed very different works, mostly from discarded wooden pallets. June Padgett constructed a coffee table. Her husband Charlie crafted a soaring eagle design. Suzanne Brubek created two pieces – a rendition of Christ on the Sea of Galilee and a mountain scene. Corrie Bjorkgren presented a leaping fish and Floyd Propst made a sled with a snowman riding. The artist of Foghorn Leghorn, the rooster, requested to remain anonymous.
Susan and Jim Warner submitted the popular vote winner, a gold and blue West Virginia themed planter.
The second stage of the contest comes late this year when the center will open up online bidding for each work of art. Many expressed interest already in which ones they would want to have and they will have a chance to bid on their favorites.
Funds used to purchase the pieces will go toward supporting center programs, particularly the vital nutrition program.
The bidding will take place in conjunction with the center's participation in the town's Christmas in the Park celebration, planned for Dec. 9. As Lantz describes, the center is working with the chamber of commerce to expand its participation. "We hope to have some of the activities in the senior center this year." This could include breakfast with Santa and things that had been held outside to "move them in where it is warm."
This reflects the senior center's strong involvement in other town celebrations and festivals, such as Trout Fest and Treasure Mountain Festival.
Although potential bidders may have to wait until the snow falls to bid on, and claim their treasures, those who rely on the senior center will reap the rewards of their generosity.