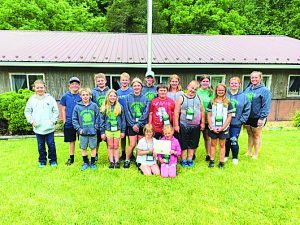 By Chloe Kisamore, club reporter
Pendleton County 4-H Camp concluded on June 9 with the Delaware tribe being awarded the spirit stick. The North Fork 4-H Club was represented well with 16 of 22 members attending camp. Campers had fun participating in various classes, coming together at the nightly council circle ceremony and visiting Droop Mt. Battlefield and Watoga State Park. 
During camp, the club received the "Keep West Virginia Beautiful" award, which highlighted the club's continued recycling program. This award was presented by Susan Parker of the West Virginia Department of Environmental Protection. The Youth Environmental Program, sponsored by the WV DEP, is designed to unite existing youth groups toward the common goal of making West Virginia shine.  The next recycling event will be held in August. 
Several of the club members received individual awards. Callie Judy received the Health "H" and Cole Harper received the Hands "H." Tori Heavener received the outstanding first-year camper award in class one and Chloe Kisamore earned the outstanding first-year camper award in class two. They deserve a big "How How."