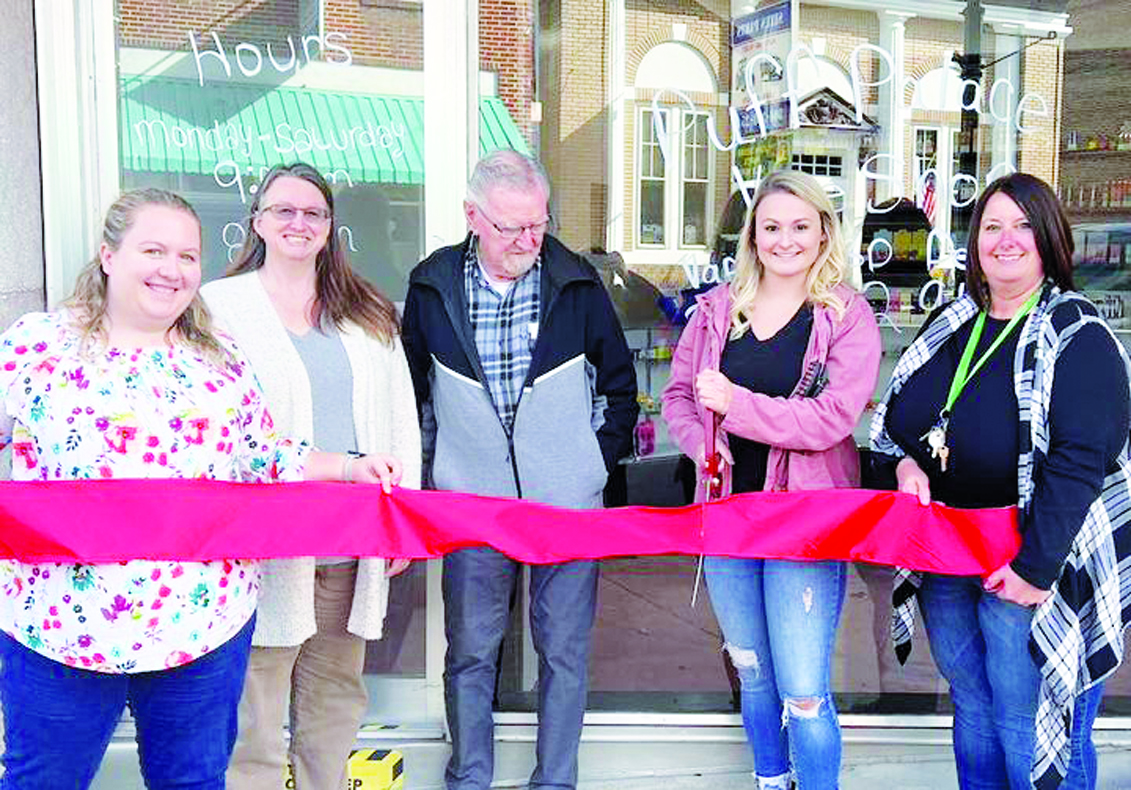 By Stephen Smoot
As vaping surges in popularity across the nation, towns throughout the region have seen shops catering to the practice opening up in towns throughout the region. Last week, Puff Palace, along with the Pendleton County Chamber of Commerce, held a ribbon cutting at their shop on Main Street in Franklin.
Kaitlyn Keplinger, owner of the new establishment, described immediate positive feedback from customers. She said they were pleased with "our high quality products and that we employ workers who provide great customer service."
Vaping remains controversial for many in the United States, mainly because it provides an effective delivery system for the addictive substance nicotine. Because of these concerns, in 2015, the British government conducted an exhaustive series of studies on vaping. 
Public Health England in 2018 criticized "misperceptions of the relative harms of nicotine replacement therapy and e-cigarettes (that) compared with cigarettes need to be addressed, particularly among smokers who would benefit from switching to nicotine replacement therapy or e-cigarettes."
This followed a study conducted by the British Royal College of Physicians in 2016. Research there established that any potential harm from vaping would not exceed 5% of the harm caused by smoking cigarettes.
That study raised the criticism that vaping would "normalize" smoking again, returning the habit to widespread use. The Royal College of Physicians, however, stated that "the available evidence to date indicates that e-cigarettes are being used almost exclusively as safer alternatives . . . by confirmed smokers who are trying to reduce harm to themselves or others from smoking, or to quit smoking completely."
Keplinger adds that although vaping will not definitely cause a person to stop, "I've had several customers quit smoking because they started vaping." She went on to say that some worry about vaping as a "gateway" to more serious drug use, but "that's not the real problem that causes people to switch into a more serious addiction."
Puff Palace also sells a variety of CBD (also known as cannabidiol) based products. While CBD does come from hemp, a plant closely related to marijuana, it does not include the THC substance that produces intoxication. The Mayo Clinic reports that the Food and Drug Administration approved the use of a CBD based product to treat two types of epilepsy, but it has not been officially approved as a treatment yet for other conditions. 
Meanwhile, Harvard Health Publishing reported in its blog that "in humans, CBD exhibits no effects indicative of any abuse or dependence potential…. To date, there is no evidence of public health related problems associated with the use of pure CBD." A study published in the National Library of Medicine indicated that almost 60% of those participating reported improvement in chronic pain while using CBD. 
While these studies are not conclusive, they at least indicate minimal harm from using CBD.
Keplinger opened the shop primarily "to be able to support my family," but also saw that vaping "was becoming very popular and there were no shops in the area." 
The store is located on Main Street between the Star Hotel and Korner Shop Café.