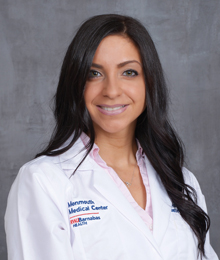 Davis Medical Center has announced that Dr. Adriana Fulginiti has joined the Women's HealthCare team, located in the DMC outpatient clinic in Elkins.
Fulginiti earned her medical degree from St. George's University School of Medicine in Grenada, West Indies.  She completed her obstetrics and gynecology residency at Monmouth Medical Center in Long Branch, New Jersey.  She holds a bachelor of science in physiology and minor in Italian studies from McGill University, Montreal in Quebec, Canada.
"Dr. Fulginiti offers women all facets of obstetrical and gynecological care," said Catherine Chua, D.O., Davis Health System chief medical officer. "She is a great fit for both our women's health team and the community.  We're so happy she chose Davis Medical Center."
Dr. Fulginiti will begin seeing patients on Aug. 15.  
"Elkins is friendly and welcoming," said Fulginiti. "My husband and I love being outdoors. We were visiting last year when the first snowfall came. We just fell in love."
Dr. Fulginiti is certified in the Fundamentals of Laparoscopic Surgery and has extensive experience in treating patients with urinary incontinence and other urinary problems. She will care for female patients from adolescence through post-menopause.
"Every patient's needs are different so I personalize medicine to treat them specifically," Fulginiti added. "I love being a part of the woman's life, treating them throughout their health journey."
She and her husband live in Elkins with their two dogs, Jax and Chase.
Appointments are being scheduled with Dr. Fulginiti for August by calling 304.637.3948.