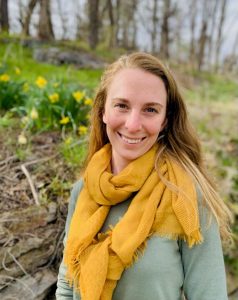 By Rebecca Arcure
Emma Dalen, a new nurse practitioner at Pendleton Community Care, hopes to add value to the community by empowering people to take good care of themselves. Dalen was born and raised in Pendleton County and is the daughter of John and Mel Dalen. She attended Pendleton County High School. After high school, she received the first Pendleton Community Care scholarship for students going into a health care profession. She attended college at Eastern Mennonite University in Harrisonburg, Virginia, and graduated with her bachelor of science degree in nursing in 2015.
She worked at Valley Health Care in Elkins, where she said those providers inspired her to become a nurse
practitioner. After receiving advanced training at Frontier Nursing University in Kentucky, she graduated as a nurse practitioner in 2021.
Dalen said she had always known she wanted to work in rural primary care, and it felt natural to return to her
roots. She added that she is most excited about working in an office of providers who are highly experienced and passionate about rural health care.
Dalen said she aims to serve Pendleton County to the best of her ability. She is especially enthusiastic about
serving women and children, but is happy to see other patients as well.
She lives in Franklin with her husband, Daniel.
Those who want to make an appointment may call the Franklin health center at 304-358-2355.