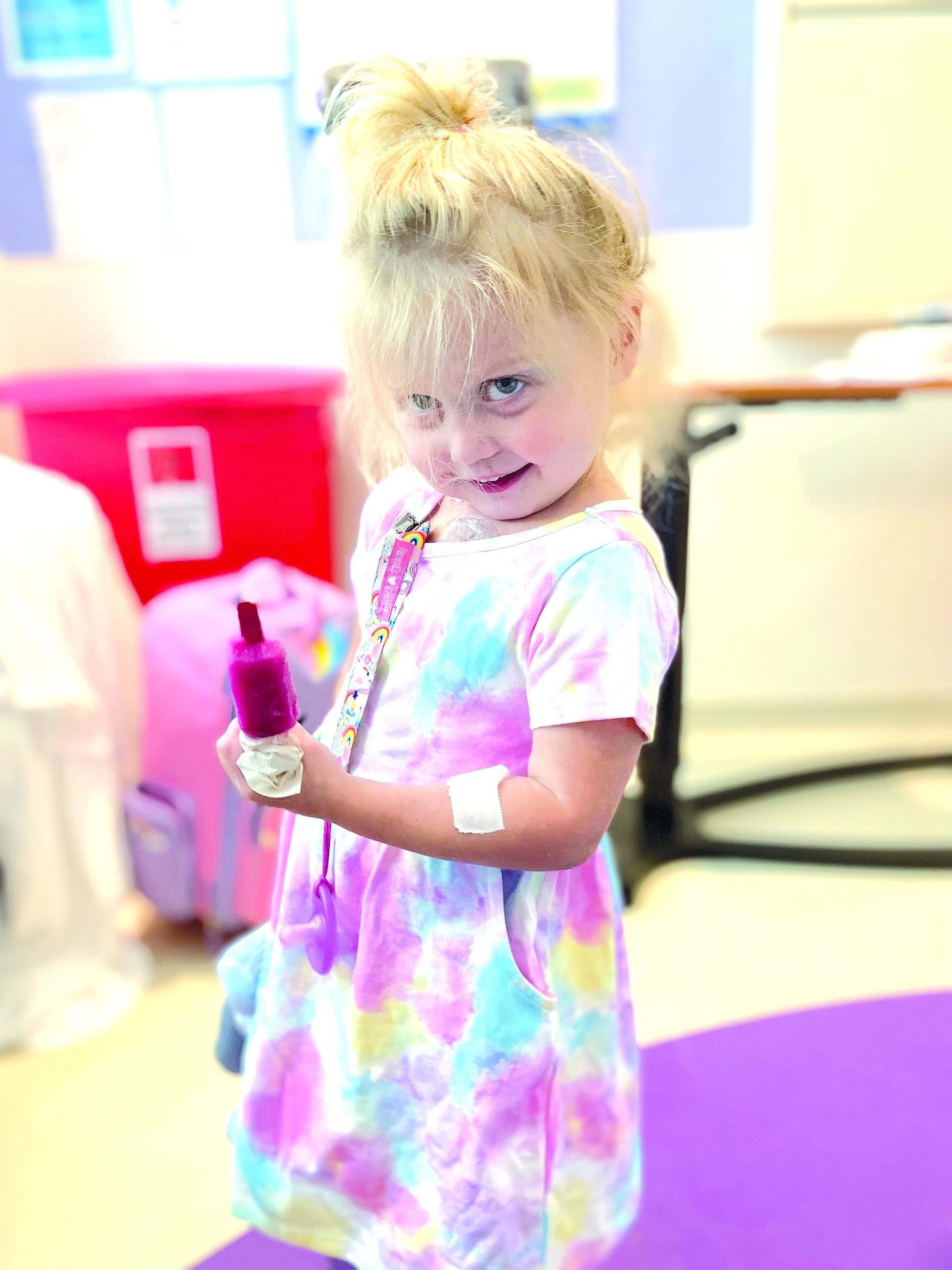 By Ammie Ruddle
As the entire community comes together to watch the story of Charlee Hoover, her mother, Danielle, offers an update. 
Charlee's story started at birth. She was born with a single ventricle, meaning that she was missing a chamber in her heart, according to Danielle.
Charlee had to undergo three surgeries to address her critical health issues. "Charlee did good with the first surgery but there were complications with the second surgery," said Danielle. 
In an interview with WHSV Channel 3, the doctors who cared for Charlee talked about her condition and what led to the decision to put Charlee on the transplant list for a new heart.
"We are sort of rerouting the plumbing and taking things so that it goes from being two separate systems and making it into one big system," explained Dr. Alex Verhoeven, a pediatric cardiologist at West Virginia University Medicine.
 "She developed heart failure and elevation of her pulmonary artery pressures that would not allow her to complete palliation," Dr. Thomas L'Ecuyer, medical director of the University of Virginia Pediatric Heart Transplant Program, added. According to the National Cancer Institute, "palliation" refers to easing the pain and symptoms of any serious or life-threatening diseases, but not to their cure.
The doctors at WVU Medicine and University of Virginia Medical Center agreed that Charlee should not proceed with any of the surgeries, "I think eventually her condition would have claimed her life. It may have been in years, but her condition was not compatible with expecting her to be healthy enough to go to school and play with other kids and have a bright future," Dr. L'Ecuyer said. 
WVU Medicine and UVA Medical Center agreed that Charlee needed to go on the list for a heart transplant. 
"Charlee was on the list for 20 days," Danielle said. 
Danielle discussed Charlee's struggles before she had the surgery. "She was blue. Everyone knew her as being a little blue. Her lips and toes were always blue." Danielle added, "She couldn't go long distances without needing to sit and rest. We had to make sure that we had a stroller or something Charlee could use to rest in when we went anywhere. She just didn't have any energy."
On Aug. 10 they got the call that Charlee had a new heart. "At 1:42 in the morning, we got the phone call from Dr. White that Charlee had an offer. It was a really good offer and we needed to get to UVA Medical Center. I'm like we are already there," Danielle said.
According to Dr. L'Ecuyer the operation took about 8 hours.
Charlee was in the hospital for 13 days after her surgery. Danielle said that Charlee is a whole new child. 
Although she still has multiple appointments to monitor her heart and ensure her body does not reject the new heart. "Right now, she has to see the doctor twice a week on Tuesdays and Thursdays till she gets her four-week heart cath. Then, if everything is good with her bloodwork and tests, she will only have to go once a week until her eight-week heart cath." Danielle added, "We just need to get through these next six months."
Through tears Danielle talked about the support Charlee and her family has received from the county. "Without God and family and the village it takes to raise a child, we wouldn't be where we are. From the bottom of our heart the community will never know thankful we are. We are so blessed to live where we do. We are forever thankful."  
Danielle then went on to update Charlee's health status. "Charlee is doing so much better. She has so much energy; before she would have to take two- to three-hour naps every day. Now she doesn't nap at all."
 Danielle added, "She is a whole new kid. She can now participate in things she could only sit on the sidelines and watch." 
Charlee, who had been in the background playing, stopped and said, "I am going to ride horses and play ball."