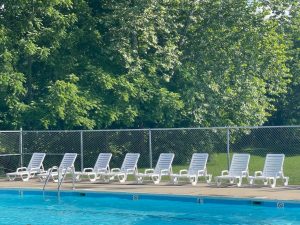 By Shawn Stinson 
Swimmers at the Town of Franklin pool have new lounge chairs to relax in and sit in the summer sun. 
Elizabeth Scott, assistant business manager with the Town of Franklin, informed the members of the town council of the purchase of 36 new lounge chairs at the June 15 meeting. The chairs were purchased by funds raised by the Franklin Board of Parks. Scott told the town council the board of parks has raised nearly $14,000 since October. 
Scott said the cost of each chair was slightly more than $100. She added individuals or businesses may sponsor a chair for $50. Scott said officials with Pendleton Community Care have pledged to sponsor chairs at the pool. 
The old lounge chairs were purchased by Marsha and Ron Kirk, owners of CMI in Franklin, nearly 12 years ago. Scott said 15 of the old chairs have been sold and others are available to purchase. The cost of the chairs is $20. 
"The board of parks would like to thank the Ron and Marsha Kirk of CMI for the generous donations they have made to the pool and the park in the past, including the last set of lounge chairs that lasted for 12 years," stated a release. "The board of the parks would also like to thank CMI for the use of its forklift in the delivery of the new pool chairs." 
Scott also told the council members the two pavilions at the Town of Franklin Park now have electricity for use by renters. The cost for the larger pavilion with electricity is $50 and the smaller one with electricity is $40. The cost for the pavilions without electricity is $35 and $25, respectively. Scott said the electricity is turned off to the pavilions when they are not in use or the renter declines to have electricity. 
She added the pavilions and the gazebo were recently painted to prepare for summer usage. 
If anyone is interested in sponsoring a lounge chair at the pool, contact the Town of Franklin office at 304-358-7525.