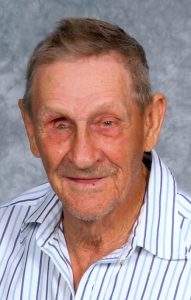 Luther Clay Hedrick, 92, of Franklin died Feb. 23, 2022, at his home.
He was born Aug. 30, 1929, at Franklin and was the son of the late Leonard Hedrick and Betty Jane (Puffenbarger) Hedrick.
Mr. Hedrick had worked at Marvel Poultry and for many years was a janitor/maintenance worker with Pendleton County Schools, retiring in 1993.  He was a member of Christ Central Community Church.
He was preceded in death by his first wife, Betty Propst, and by his second wife, Eva Florence (Rexrode) Hedrick.
Surviving are three sons, Terry Hedrick (Margaret), Cody Hedrick (Barbara) and Keith Hedrick (Sarah), all of Franklin; a sister, Alice Johnson of Franklin; five grandchildren, Darren Hedrick, Warren Hedrick, Kristen Hedrick, Adam Hedrick and Aaron Hedrick; and three great-grandchildren, William, Bryson and Gracie.
He was also preceded in death by a son, Luther Hedrick, Jr.; four brothers, June, Elmer, Fred and Bill Hedrick; and two sisters, Etta Sponaugle and Ida Vandevander.
A funeral service was held Saturday at Kimble Funeral Home in Franklin with Pastor Sam Harper officiating. Interment was at Cedar Hill Cemetery in Franklin.
Memorials may be made to Grant Memorial Hospice, 100 Hospice Drive, #2, Petersburg, WV  26847, Franklin Vol. Fire Dept., PO Box 902, Franklin, WV  26807 or Franklin Rescue Squad, PO Box 966, Franklin, WV  26807.
Online condolences and memories may be shared at www.kimblefuneralhome.com.