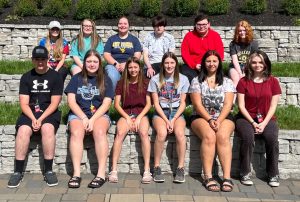 High school students from Pendleton, Randolph, Barbour, Tucker and Pocahontas counties participated in the Davis & Elkins College Upward Bound Classic Summer Program June 5 through July 1.
"The pandemic required students to work remotely the last few years, but D&E Upward Bound was glad to be 'Back in Class,' as their summer T-shirts noted," said Carol Suder-Howes, director of the Davis & Elkins College Upward Bound TRiO programs.
During the session, students studied various subjects including physics, mathematics, composition, literature, financial literacy, robotics, technology, life skills and foreign language. Upward Bound students also have been exposed to a variety of cultural and wellness classes and have had numerous learning experiences outside of the classroom with community service, career and college awareness opportunities as well.
The session concluded with an academic awards program honoring students who excelled in various classes. The awards were presented during a luncheon attended by the students' families.
Pendleton County students recognized for outstanding academic performance were physics – Joclyne Souza; math – Rowan Witt; technology – Gage Sites-Woods; and College 101 – Landan Mason.
Elizabeth Gonshor, Selena Hedrick, Mason and Witt were recognized for perfect participation.
As a reward, the students traveled to Pittsburgh for cultural explorations.
The Upward Bound program, 100% funded by the U.S. Department of Education, is a federal TRiO program dedicated to assisting qualifying, first-generation Appalachian high school students in their transition from high school to college.
For additional information, visit deupwardbound.org/ or call 304-637-1989.