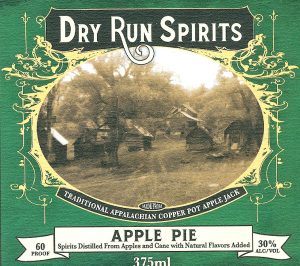 By Ammie Ruddle
Deep in the mountains of Pendleton County, along one of the many backroads, is a small "mom and pops" distillery – Dry Run Spirits. 
Jeff and Teresa Munn founded and own the distillery that produces Apple Pie Moonshine, Maple Moonshine and others, was recently featured in a Southern Association of State Departments of Agriculture conference.
Jeff Munn said, "Dry Run Spirits was one of the four out of the 20 distilleries in the state to be invited to the conference. We are really proud to represent the state of West Virginia."
He added, Swilled Dog, another Pendleton County distillery, had also been invited to the conference.
 "This is a great reflection on the county," Munn said, "If someone visits our distillery, we recommend they visit Swilled Dog, and Still Hollow, located in Randolph County, as well."
Dry Run Spirits is located on a restored homestead, built in the 1800s, and that had been known for producing hard apple cider in the county.
"We are trying to regrow the original heritage apple orchards that have been here for over 100 years," said Munn. "Dry Run Spirits is not just a distillery, it is a destination. We provide opportunities to visit the restored homestead, complete with antiques and photos of the original owners. Guests can even plan and hold their wedding on the property because we have an event space available." 
Munn added, "The ultimate goal is to incorporate the local distilleries into a craft beverage tourist attraction within the county."