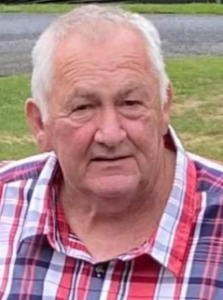 Larry Ray "Doc" Kimble, 69, of Upper Tract passed away May 13, 2022, at his home. 
He was born April 22, 1953, at Petersburg and was the son of the late Richard Wesley Kimble and Mary Gladys Shreve Kimble.
Mr. Kimble was a 1972 graduate of Franklin High School and first worked at Valley Machine Shop and had retired from Mineral Fabrication after 40 years as a superintendent of industrial construction.  He attended Christ Central Community Church.
His wife, Karen Sue Kimble, preceded him in death on May 11, 2013.
Surviving are a daughter, Kelly Kimble of Fairmont; two sons, Westley Kimble (Casey) of Petersburg and Nicholas Kimble of Upper Tract; four sisters, Patsy Robertson of Black Mountain, North Carolina, Peggy Botkin (Doug) of Upper Tract, Darlene Mallow (Bill) of Greenwood, South Carolina, and Frankie Roberson (Tommy) of Franklin; three brothers, James Kimble (Judy) of Lahmansville, Carroll "Hap" Kimble (Rhona) of Upper Tract and Tony Kimble of Cumberland, Maryland; three grandchildren, Olivia, Madison and Adaline; and his companion, Jenny Harper.
A funeral service was held Tuesday in the Kimble Funeral Home chapel with Rev. Kevin Staggs officiating. Interment was at Cherry Hill Cemetery at Upper Tract.
Memorials may be made to Upper Tract Rescue Squad, PO Box 1290, Upper Tract, WV 26866 or Upper Tract Volunteer Fire Department, PO Box 42, Upper Tract, WV 26866.
Online condolences may be shared at www.kimblefuneralhome.com.