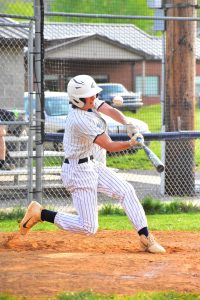 By Shawn Stinson 
A lone Pendleton County player earned all-Potomac Valley Conference baseball honors this season. 
Junior Clayton Kisamore was named to the all-PVC Division 2 team. He helped guide the Wildcats to an overall record of 8-15. He played shortstop and center field as well as pitcher this season. 
Kisamore finished with a .424 batting average and a .550 on-base percentage. He recorded four doubles, three triples and two home runs. Kisamore notched 23 runs batted in for the Wildcats. He scored 21 runs and stole 20 bases. 
On the mound, Kisamore had a 4-4 record with a 3.20 earned run average. He finished with 48 strikeouts in 45 1/3 innings and had 21 walks. 
Tucker County's Mason Kisamore was voted as the PVC Division 2 player of the year. Mike Landis from Petersburg was selected as coach of the year. 
Petersburg placed four players – Johnathon Mallow, Slade Saville, Nathanial Travis and William Van Meter – on the all-PVC Division 2 first team. Garrett Gibson, Kaden Moore and Matthew Pratt of Tygarts Valley were also all-conference first-team selections. Dawson Price and Noah Sager from East Hardy rounded out the all-PVC squad. 
The members of the all-PVC Division 2 second team were Clay Arbaugh of Petersburg, Noah Armstrong, Brandon Mahoney and Riley Tackett of Tygarts Valley, Josey Armstrong, Ben Dunz, David Gibb and Jamie Van Devender of Pocahontas County and Justin Robeson of and Harper Russell of Tucker County.