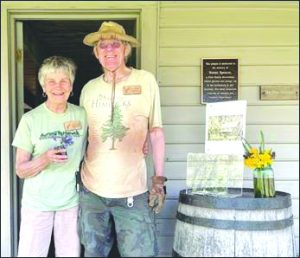 Monongahela National Forest partner Kaila St. Louis is the most recent recipient of the Forest Service's 2021 Eastern Region Volunteer and Services Award in the category of cultural diversity.
St. Louis is the heritage gardener at the historic Sites Homestead near Seneca Rocks, according to a news release. She has created a unique living history program showcasing mid-1800s Appalachian life. Each season an estimated 50,000 people visit the farmhouse, gardens, and apple orchard that she and her husband, Larry Arnold, who is also a volunteer, maintain. Stop by the Sites Homestead this summer to meet her and see the heritage garden and homestead. Learn more about visiting the area at https://www.fs.usda.gov/recarea/mnf/recarea/?recid=7052.
In fiscal year 2021, the Forest Service engaged over 65,000 volunteers and service participants across the nation. Together, they contributed over 3.6 million hours valued at $103 million. The eastern region recorded 6,200 volunteers and service participants contributing more than 387,000 hours of service valued at $11 million. The eastern region is proud to recognize these individuals, organizations, and partners for their exceptional work in five categories: enduring service, leadership, restoration, cultural diversity, and citizen stewardship & partnerships.