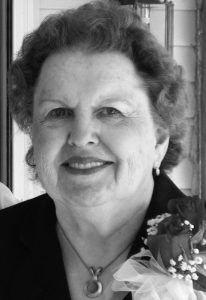 Julia "Grace" Kimble, 92, formerly of Upper Tract went to her heavenly home on Oct. 28, 2023, while a patient at Sentara RMH in Harrisonburg, Virginia.
She was born April 5, 1931, at Franklin and was the daughter of the late John Bowers and Julia Bennett Bowers.
Mrs. Kimble was a 1948 graduate of Franklin High School.
She was a librarian assistant at Woodley Hills Elementary School and a secretary at Belle View Apartments.  She was a member of Christ Central Community Church and the South Branch Ruritan Club.
On July 22, 1951, she married Maurice Adam Kimble, who preceded her in death on Nov. 17, 2016.
Surviving are a daughter, Lois Hagerup (Chip) of Sherwood, Arkansas; a son, John Riley Kimble (Karen Nolen) of Alexandria, Virginia; a sister, Ruth Duty (Junior) of Joppa, Maryland; five grandchildren, Jessica Gray, Samantha Kimble, Olivia Kimble, Jennifer Guevara and Melissa Dees; and seven great-grandchildren.
She was also preceded in death by two brothers, Carl Bowers and an infant brother; and three sisters, Mildred Lantz, Retha Raines and Anna Simmons.
The family will receive friends from 1 to 2:30 p.m. Friday at Christ Central Community Church near Upper Tract, where a funeral service will follow at the church with Pastor Sam Harper officiating. Interment will be at Cherry Hill Cemetery at Upper Tract.
Memorials may be made to Christ Central Community Church, PO Box 1286, Franklin, WV  26807.
Online condolences and memories may be shared at www.kimblefuneralhome.com.
Funeral arrangements are entrusted to the Kimble Funeral Home in Franklin.