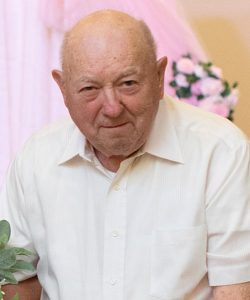 John Robert Hedrick, 91, passed away peacefully July 29, 2022, at his home in Seneca Rocks.
He was born Nov. 2, 1930, in Dry Fork, the son of the late Homer and Nela Phares Hedrick from Seneca Rocks.
Mr. Hedrick attended Dixie Grade School in Riverton and Circleville High School in Circleville.  He was the owner of Riverton Sporting and Hardware Store in Riverton from 1980 – 1992.  He attended the North Fork Baptist Church and was an avid hunter and angler with a gift to repair nearly anything. 
On Aug. 4, 1950, he married his wife, Lois Nelson Hedrick, of nearly 72 years, who survives. 
He also leaves behind three children, Doris Ann Martin (Ronald) of Markleysburg, Pennsylvania, Barbara Gail Thompson (John) of Circleville and James Douglas Hedrick (Lara) of Seneca Rocks; 12 grandchildren, Jennifer, Tim, Matt, Scott, Meagan, Eric, Jose, Jasmine, Ryan, Cameron, Tristen and Nelly; six great-grandchildren, Whitney, Taylor, Conner, TJ, Matayah and Treyven; nine great-great-grandchildren; and two sisters, Lorena (Sis) Hedrick of Petersburg, and Blonda (Boots) Hartman of Seneca Rocks.
He was also proceeded in death by three brothers, William (Bill) Hedrick of Ohio, Earl (Buzz) Hedrick of Riverton and Gerald (Jake) Hedrick of Manassas, Virginia; and two sisters, Avanell Hinkle and Wilda Bland, both of Riverton.
In honoring his wishes, a graveside service was held Wednesday at North Fork Memorial Cemetery in Riverton with Pastor Ted Bennett officiating.
Memorial contributions can be made to Cortland Acres Nursing Home, 39 Cortland Acres Ln., Thomas, WV 26292 or Burlington United Family Methodist Services, 120 Hope Ln., Burlington, WV 26710.
Memories and words of comfort may be left at www.basagic.com or on Facebook at Basagic Funeral Home.