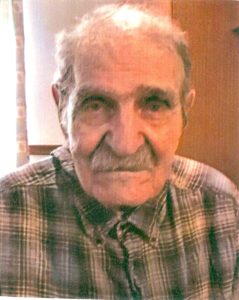 Ira H. "Bub" Propst, 96, of Franklin passed away March 14, 2022, at Pendleton Manor in Franklin.
He was born July 24, 1925, and was the son of the late Charlie Lewis Propst and Margaret "Maggie" Whetzel Propst.
Mr. Propst attended Franklin High School and served in the U.S. Navy.  He worked at Kline Motor Sales, Pendleton Motor Sales and retired from the West Virginia Department of Highways.
He attended Smith Creek Church of the Brethren and enjoyed woodworking.
He was the last surviving member of his immediate family.
His wife, Ruby C. Simmons Propst, survives. 
Also surviving are a number of nieces, nephews, great-nieces and great-nephews.
He was also preceded in death by three brothers, Carroll Propst, Jimmie Propst and Billie Propst; and two sisters, Mabel Cayton and Edith Stone.
The family will receive friends from noon to 1 p.m. today at Kimble Funeral Home in Franklin where a funeral service will follow in the funeral home chapel with Pastor David Morris officiating. Interment will be at Cedar Hill Cemetery in Franklin.
Memorials may be made to Franklin Rescue Squad, PO Box 902, Franklin, WV  26807; Smith Creek Church of the Brethren, 182 Goshen View Lane, Franklin, WV  26807 and Pendleton Manor, PO Box 700, Franklin, WV  26807.
Online condolences and memories may be shared at www.kimblefuneralhome.com.