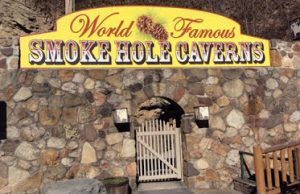 By Ammie Ruddle
See and go, seems to be the new standard for local tourism in Pendleton County. 
According to Sam Yokum, owner of Yokums, a local tourist attraction connected to Seneca Rocks, tourists are coming in for the day to see the sights, eat, purchase a souvenir and then leave.
"People are not interested in lodging for more than a night or maybe a weekend," Yokum said. 
Janet Hedrick, owner of Smoke Hole Caverns concurred with Yokum's statement. She added, "Everything is going up 20 to 30%, for the cost of food, Pepsi products, and ice cream. I no longer get the name brand foods, but a no-name brand I have never heard of."
The pair said that traffic has been good for their prospective attractions, but lodging is considerably down. Yokum and Hedrick stated that people are coming for a day trip or maybe overnight but they are seeing less and less week-long stays compared to past years. 
According to the latest monthly release of the Consumer Price Index by the U.S. Bureau of Labor Statistics, the rate of inflation increased 1.3% in June.
Inflation rose by 9.1% over the past 12 months, which is the largest 12-month increase since 1981.
Also included in the report, gasoline costs rose 11.2%, food costs rose 10.4 % over the year, the highest levels since 1981, and energy costs rose 41%, the highest 12-month increase since 1980.
 "For more than a year, leaders in Washington have ignored the serious concerns raised by myself and others about the rising cost of inflation," Sen. Joe Manchin (D-WV) stated in response to the latest figures, in an article with the Metro News. 
Sen. Shelley Capito (Sen. R-WV) tweeted: "While Biden might be used to creating 40-year high inflation every month, this is devastating for families across West Virginia buying food and gas every day."
"While Washington seems to now understand this reality, it is time for us to work together to get unnecessary spending under control, produce more energy at home and take more active and serious steps to address this record inflation that now poses a clear and present danger to our economy," Manchin added.
"As Democrats and @potus work to pass their reckless tax-and-spending spree, a reminder: you can't tax and spend your way out of this," Capito added.  
Manchin said, "Items like chicken, eggs and lunchmeat have increased to new highs, while energy costs rose more than 40% in June with those that can least afford it suffering the most. It is past time we put our country first and end this inflation crisis."
Hedrick added, despite dealing with the state of the coronavirus in 2020, this summer has been "one of the worst" financially in the 40 years of owning the business.