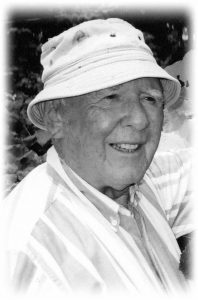 Herbert Elton Eye,101, of Deer Run passed away July 23, 2022, at Sentara RMH in Harrisonburg, Virginia.
He was born on Sept. 15, 1920, the son of the late Whitney W. and Etta Mae (Dunkle) Eye.
Mr. Eye was a 1939 graduate of Franklin High School and enrolled in Mountain State Business College in Parkersburg. In the fall of 1941, the beginning of his third year of college, his education was interrupted to serve in the U.S. Navy during WWII, where he was honorably discharged after suffering an injury while aboard the USS Dahlgren. After being united in marriage to his wife, he then completed his studies through LaSalle Extension University and The University of Maryland Night School. 
He distinguished himself in the business world. He was employed from 1946 – 1968 by Crown Central Petroleum, where he served in Baltimore, Maryland, Richmond, Virginia, and Charlotte, North Carolina areas. He traveled the Southeastern United States while executing his duties as southeastern regional financial manager. In 1968, he accepted a position with A.S. Abel Communication Company, parent company of the Baltimore Sun Newspaper, where he worked as a financial manager for the next 18 years. His final contribution was as head of a committee tasked with developing and installing computerization of the company's financial operation. 
Upon retirement, he and his wife moved to his home in Deer Run. They spent the spring and bitter winters in Melbourne, Florida. They traveled extensively during the next 30 years, visiting all 50 states and 11 countries abroad. 
He was a member of CPA's of America, Sons of the American Revolution, America Media Credit Executive Association, American Newspaper Association oil information committee, James Boggs Confederate Camp, Sons of the Confederacy, Pendleton County Historical Society, VFW Franklin Post #30 and VFW Baltimore Post #5602.
On Aug. 21, 1943, he married Mary Lee (Harper) Eye, who preceded him in death. 
Mr. Eye leaves behind to cherish his memories and celebrate his life a beloved daughter, Christina (Eye) Clapsadle of Cordova, Tennessee; a beloved son, Charles W. Eye (Janice) of Tulsa, Oklahoma; three grandchildren; two great-grandchildren; and numerous nieces and nephews, including his favorite nephew, Neal Eye (Linda) of Franklin.
He was also preceded in death by three sisters, Sylvia Hartman, Mary Smith, and Jean Brunn; a brother, Earl H. Eye; a son-in-law, Raymond A. Clapsadle; and a grandson, Robert Clapsadle. 
A memorial service will be held at a later date.
Memorials may be made to the WV Schools for Deaf and Blind, 301 East Main St., Romney, WV 26757.
Memories and words of comfort may be left at www.basagic.com or on Facebook at Basagic Funeral Home.