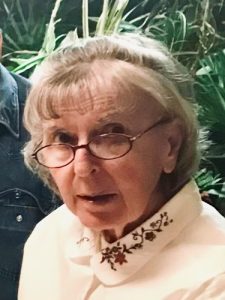 Helen Louise (Groves) Hedrick, 81, of Petersburg passed away Oct. 19, 2023, at her home.
She was born on June 21, 1942, in Maysville and was a daughter of the late Earl Alston Groves and Neva Ellen (Ours) Groves. 
Mrs. Hedrick was a 1960 graduate of Petersburg High School. She attended Potomac State College and graduated from West Virginia University with a bachelor's degree in home economics. She later attended the University of Maryland and received a master's degree in foods and services.
She began teaching school in Grant County in the late 60s and then worked for the West Virginia Extension Service until 1976. She then continued her teaching career in Pleasants County, Hardy County and finally returned to Grant County where she retired in the spring of 2000. Following her teaching retirement, she authored several children's books. Throughout her entire professional career, she was a leader and coached several youth 4-H activities. 
In 1987, she and her husband, Larry, established the Homestead Inn motel on their farm. She was a lifelong beef cattle farmer and thoroughly enjoyed working with her Angus cattle. 
Her husband of 58 years, Larry Allen Hedrick, survives.
Also surviving are a son, Roy A. Hedrick (Michelle) of Petersburg; two grandsons, Ryan Ashford Hedrick and Marc Bauer Hedrick; two sisters, Betty Groves and Ellen Groves Kirby, both of Petersburg; two sisters-in-law, Barbara Merryman and Delores Hedrick; two brothers-in-law, Jerry Hedrick and Charles Hedrick; and several nieces and nephews.
She was also preceded in death by a brother-in-law, Wilford Kirby; and several aunts, uncles and cousins
A funeral service was held Sunday in the chapel of Schaeffer Funeral Home in Petersburg with Pastor Larry Hakes, chaplain of Grant Memorial Hospice, and the Rev. Robert Baer, Jr., pastor of Grove Street United Methodist Church officiating. Interment was in Lahmansville Cemetery.
Memorials may be made to Grant County 4-H All Stars, WVU Grant County Extension, 114 N. Grove Street, Petersburg, WV 26847, Petersburg High School Scholarship Fund, 89 Riverview Drive, Petersburg, WV 26847 or WV Junior Angus Association, c/o Adam and Casey Hayes, 561 Snider Loop, Kingwood, WV 26537.