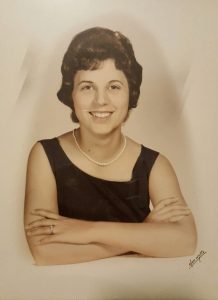 Helen "Jean" (Harper) Chestnut, 79, of Bridgewater, Virginia, passed away on April 28, 2022, at Sentara Rockingham Memorial Hospital in Harrisonburg, Virginia.
 She was born on June 27, 1942, in Cave to the late Roscoe Thomas and Bessie May (Mowery) Harper.  She grew up in Franklin and graduated from Franklin High School.  
A loving and devoted wife and mother, Mrs. Chestnut played games with her children, taxied them to school (three different schools at once for a while), and supported their many activities, often even as chaperone (cheerleading, sports, scouting, bands).  She worked as a telephone operator; at one point, she had memorized phone numbers for most of the businesses in Harrisonburg, Virginia.  Her favorite music included Elvis Presley, Johnny Cash and Glen Campbell.  She collected owl figurines.  Traveling was a treat for her and included trips to Baltimore, Maryland, Richmond, Virginia, and Wondervu, Colorado, to visit family and sightsee, as well as trips to Myrtle Beach, South Carolina, and Hawaii.
She could often be heard telling others that she was proud of all her kids and grandkids.  She treasured her relationships with other extended family as well – aunts, uncles, cousins, siblings, nieces, nephews, and in-laws.  She enjoyed attending family reunions and staying in touch over Facebook.  
She lived the past five years at Bridgewater Retirement Community in Bridgewater, Virginia, where she made many friends among the residents and staff.  She particularly enjoyed playing bingo and attending musical performances.
One March 31, 1962, she married Lyle Douglas Chestnut of Highland County, Virginia. Together they had three children, Karen, Lisa and Dale. The family lived in Harrisonburg, Virginia.  
Mrs. Chestnut warmly welcomed her kids' spouses into the family.  She was delighted when grandchildren arrived – Mik and Anne to Karen and her late husband, Barry Cox, Carl to Lisa Chestnut, Emilee to Dale and wife, Cindy Robey Chestnut; and great-grandson Mateo to Carl Smith.  Additionally, she is survived by her sister, Reta (Harper) Corn of Maryland with whom she spoke daily through recent decades.  
In addition to her parents, she was predeceased by her husband, Lyle, in 1993; a brother, Woodrow Harper; and a sister, Mary Elaine (Harper) Cody.
A private committal service will be held in Monterey Cemetery.
The family invites friends and extended family to join them at noon on May 21 at The Highland Center in Monterey, Virginia, for a time of remembrance, storytelling and meal of fellowship to celebrate Mrs. Chestnut's life.  RSVPs to attend the meal are cordially requested by May 13, to coxkarenann@gmail.com. 
Memorial contributions may be made to American Cancer Society, PO Box 22478, Oklahoma City, OK 73123 or Saint Jude Children's Research Hospital, 501 St. Jude Place, Memphis, TN 38105.
Condolences and memories may be shared with the family at www.obaughfuneralhome.com.