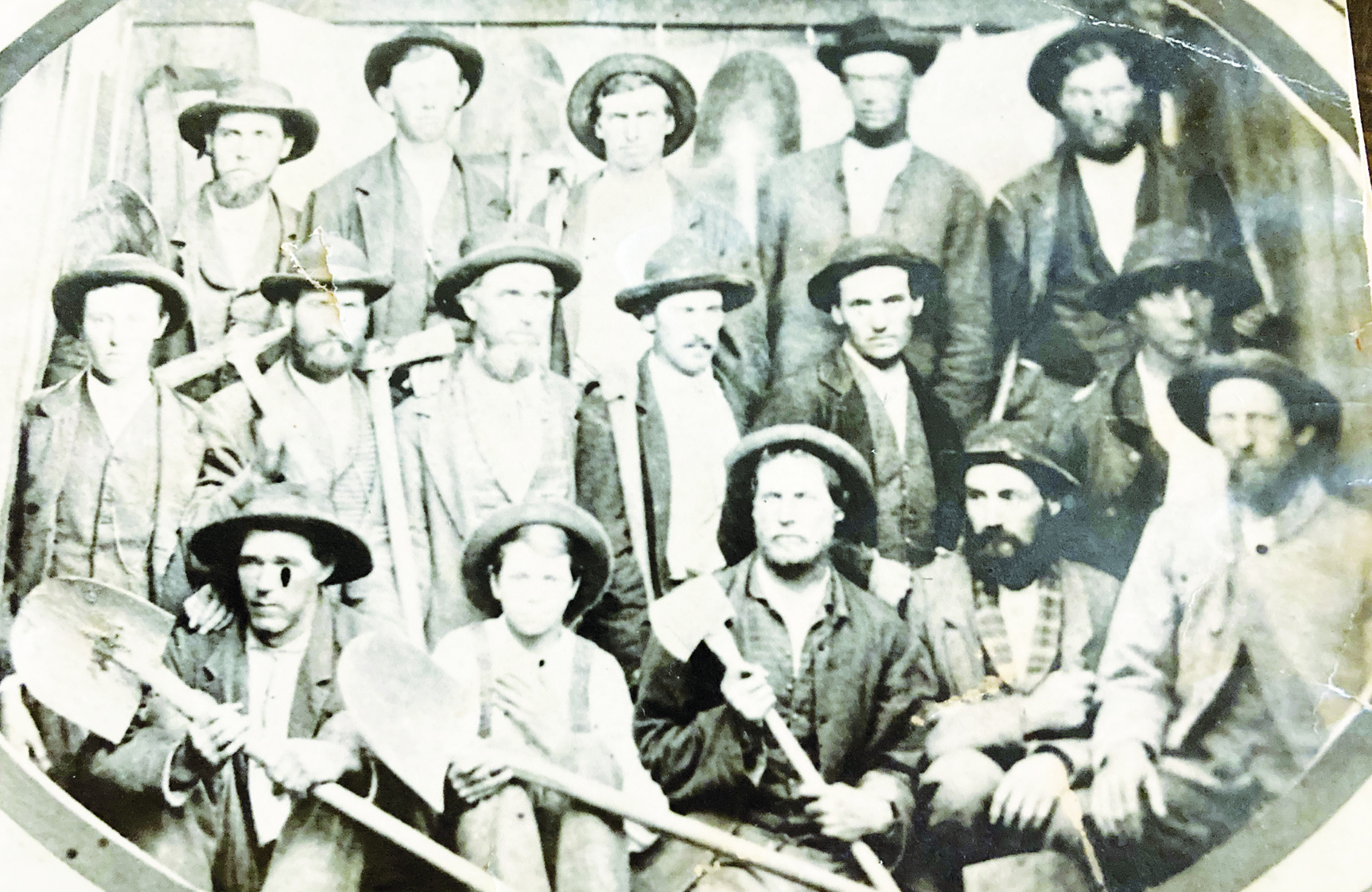 Sugar Grove
By Paula Mitchell
The Pennsylvania German or Pennsylvania Dutch tongue is a variety of the German spoken by the Amish and Mennonites in Pennsylvania, and later in Pendleton County. This language is related to the dialects from the Palatine areas, such as southern Germany, Alsace and Lorraine in eastern France, and Switzerland.  
There are many examples of expressions that have derived from the Pennsylvania dialect. Here are a few that have entered the English language:
Fetch…Go "fetch" Aunt Polly.
Mind used to mean remember..,I "mind" that we used to go there.
A dress may be called a "frock."
A "hutch" is a chest of drawers.
Using "sad" to mean heavy. The sad potpie did not rise as much as it should have.
A "slop" bucket is a pail for holding liquid garbage.
"Christmas tree"…sources from Germany as early as 1605.
"Belsnickle"…originally a hideously disguised and masked person who visited homes during the Christmas season  pretending to beat children and tossing out nuts and cakes before leaving.
"Dumb"…used to mean stupid.
"Hex"…meaning "witch" and refers to the casting of evil spells.
"Noodle"…originally "nudel" meaning a long, narrow strip of dried dough.
"Ouch"…deriving from the German "Autsch," meaning the personal expression of sudden pain.
"Poltergeist"…meaning a ghost.
"Pon haus"…another word for scrapple, the mixture of ground meat (usually pork), seasonings, and cornmeal.
"Sauerkraut"…widely known fermented cabbage.
"Strubbly"…untidy, messy, and not well kept as with hair.
"Spritz"…to spray or squirt something, coming from the word "Spritzen."
"Spook"…like a ghost, from the Germanic "Spuk."
"Snickerdoodle"…a cookie made from flour, sugar, and butter and rolled in cinnamon sugar before baking. The name comes from German word "Schneckennudel" which refers to a sweet pastry.
"Scrapple"…a post butchering preparation that prevented any part of the pig from being wasted.
"Schnitz"…sliced fruit, usually dried apples, used in pies and in making apple butter.
"Smearcase"…cottage cheese from the word "Schmierkase" meaning a spreadable soft cheese.
"Dunk"…to dip a person into a liquid.
"Fastnacht"…a doughnut made from dough leavened with yeast. This doughnut was eaten on Shrove Tuesday, Fat Tuesday, or Mardi Gras.
"Kris Kringle"…It is the word for Christ child; another name for Santa Claus.
As immigrants arrived on the American shores, they brought with them parts of their language to be blended into the English language. It is amazing that these words are still a part of every day language to this day.
Life's little instructions to make one's day manageable include the following:
Avoid news overdose.

Compliment children when they behave well, especially in restaurants.

Compliment a stranger.

Donate unused items.

Let the manager know when a person gets great customer service.
The earlier part of last week brought temperatures of 32 and 34 degrees.  That was a rather quick change to the 90s that had been in the air.  Much needed rain arrived Friday night and continued through the weekend.  Leaves are falling as a result.  Soon the hills and mountains will have a panorama of color for one and all to enjoy.
Quotes for the week are as follows:
"Music education stimulates, challenges, and enriches our young people during their formative school years; its value lasts a lifetime." — Tammy Baldwin
"In every conceivable manner, the family is link to our past, bridge to our future." — Alex Haley
"No place is ever as bad as they tell you it's going to be." — Chuck Thompson
"Everyone is our neighbor, no matter what race, creed, or color." — Queen Elizabeth II
"I used to think that the worst thing in life was to end up alone. It's not. The worst thing in life is to end up with people who make you feel alone." — Robin Williams
Life is much better by the fireside to hear about the "Talk of the Grove."
Joel and Betsy Farrar of Lynchburg, Virginia, were Friday visitors in the home of Willard and Judy Rader.
Nathan Puffenbarger, son of Wesley and Becky Puffenbarger, celebrated his fifth birthday Saturday with family and friends.
Karla and Jim Moats made a quick trip to California to welcome their first grandchild. Tuesday and Brian Simmons were blessed, a few weeks early, with a healthy boy, Cedar Monroe Simmons, born Sept. 25, weighing 7 pounds 2 ounces and 19 1/2" long.
Besides Pendletonians, there were folks from Barberton, Ohio, Staunton, Virginia, Harrisonburg, Virginia, and Bridgewater, Virginia, Moorefield, Keyser, and Romney attending the Sunday afternoon Boys of '17 presentation delivered by Brenna Mitchell at the Pendleton County Historical Society's meeting in Sugar Grove.  The gentle rainfall was welcomed by all in attendance.  The presentation was professionally delivered with a variety of refreshments following as the attendees mingled and enjoyed the many forms of displays.  
Checking in on Rosalee Grogg this week were Marleta Wimer, Diane Kuykendall and daughter, Shannon Shockey of Harrisonburg, Virginia.
Phil Downs visited with K.D. and Verla Puffenbarger this past week.  He also visited with Clinton Ann Bowers, bringing her a birthday cake for her up-coming birthday.  
This week's clickety-clacks for the chin waggers follow:
Warner Communications paid 28 million for the copyright to the song "Happy Birthday," which was written in 1935.

In ancient Greece, tossing an apple to a girl was a traditional proposal of marriage. Catching it meant she accepted.

A person's tongue is the only muscle in one's body that is attached at only one end.

Glass takes one million years to decompose. 

Due to earth's gravity, it is impossible for mountains to be higher than 15,000 meters.
Concerns for this week are many, and they are as follows: Charles Anderson, Lannie Arbaugh, Lynn Beatty, Jack Bennett, the John F. Bowers family, Bill Brackman,  Jeff Evick, Lee Roy and Ina Evick, Margaret Ferrell, Ron Gilkeson, Lola Graham, Marlene Harman,  Steve and Armanda Heavner, Starr Hedrick, Gary and Jackie Hills, Virgil Homan, Jr., Charlie Marie Hoover, Keith Hoover, Lorena Hoover, Myrtle Hoover, Enos Horst, Doris Hull,  Bob and Cynthia Hurry, Alice Johnson, Kim Line, Richard Judy, Melissa Lambert, Robin and Kitty Lambert, Robert Lambert,  Rex Landis, Angela Lung, Linda Malcolm,  Betty Mallow, Roger and Skip Mallow, Yvonne Marsh, Neil McLaughlin, Naomi Michael,  Gloria Moats, Joe Moats, Lincoln Moore, Ernie Morgan,  the Lacy Moyers family, Aaron Nelson, Ken and Ruth Nelson,  Bennie Nesselrodt, Cheryl Paine, Sutton Parrack,  Alda Propst, Betty Lou Propst,  Kathy Propst, Sheldon Propst, Verla Puffenbarger, Pam Rexrode, Donna Ruddle, Annie Simmons, Barbara Simmons, Erin Simmons, Eva Simmons, Robbie Sites, Ona Smith, Stanna Smith,  Patricia Swecker, Rosa Tichenor,  Sandra Vandevander, Jack Vogel, Ron White, Judy Williams and Larry Wimer.