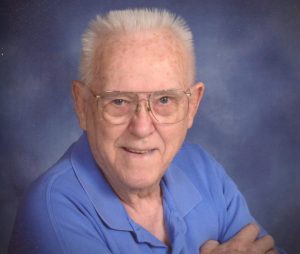 Gerald Wayne "Jerry" Van Slyke, 93, of Upper Tract went to be with his Lord on Oct. 16, 2023, at his home.
 He was born on Oct. 27, 1929, in Modesto, California, and was the son of the late Wayne Taylor Van Slyke and Gladys Lucille (Showalter) Van Slyke.
Mr. Van Slyke served in the United States Navy for 22-1/2 years and retired as master chief. He worked for the National Security Agency until retirement.
He was a member of the United States Naval Cryptologic Veterans Association and Fleet Reserve Association, a member of Potomac Highlands VFW Post 6454 and a member of Mt Horeb United Methodist Church. 
His wife, Macie (Mowery) Van Slyke, preceded him in death in 2020.
Surviving are two daughters, Jean P. Mongold of Mozer and Nancy L. Cook and husband, Darrell of Woodstock, Virginia; three grandchildren, Jordan Wayne Mongold and wife, Victoria, Tiffany Smith and Luke Smith; four great-grandchildren; two sisters, Vivian N. Dorville of Manteca, California, and Audrey L. Hawthorne of Auburn, California; and several nieces and nephews.
He was also preceded in death by a granddaughter, Talia Kristen Mongold.
A graveside service was held Friday at the Lough Family Cemetery with the Rev. David Webb and Rev. Rita Beeman officiating. Military honors were by Grant County Veterans Honor Guard and United States Navy Honor Guard.
Memorial contributions may be made to Mt. Horeb United Methodist Church, c/o Tony Calhoun, 172 Ridge Road, Upper Tract, WV 26866.
Arrangements were under the direction of the Schaeffer Funeral Home in Petersburg.