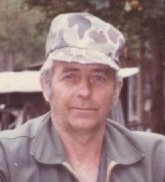 Fred Ona Hottinger, 88, of Fort Seybert died June 20, 2023, at Keyser Healthcare Center in Keyser.
He was born Jan. 15, 1935, at Fort Seybert and was the son of the late Isaac Hottinger and Lena Dove Hottinger.
Mr. Hottinger was a seasonal orchard worker for Rinker Orchards at Stephens City, Virginia, and was a farmer.  He had a passion for gardening, raising watermelons, pumpkins and tomatoes, and he especially enjoyed spending time on his tractor.  He was an avid fisherman and attended Cherry Grove Baptist Church.
He was the last surviving member of his immediate family.
On Oct. 8, 1956, he married Mary Bonnie Harman Hottinger, who preceded him in death on Aug. 28, 2019.
Surviving are three daughters, Sharon Hottinger of Riverton, Sondra Ruddle of Fort Seybert and Terry (Terry) Johnson of Circleville; two sons, Steven Hottinger of Brandywine and Gary Hottinger of Upper Tract; nine grandchildren, Jeremy Hottinger, Derek Whetzel, Denim Vance, Seth Casto, Kevin Ruddle, Viola Ball, Amanda Ruddle, Keisha Hottinger and Dawn Halterman; 21 great-grandchildren; and four great-great-grandsons.
He was also preceded in death by three brothers, six sisters, a granddaughter and a daughter-in-law.
A graveside service was held Monday at the Hottinger Family Cemetery on Brady Hollow Road in Fort Seybert with Pastor Ted Bennett officiating.
Memorilas may be made to the Fred Hottinger Memorial Account, c/o Summit Community Bank, PO Box 863, Franklin, WV  26807.
Online condolences and memories may be shared at www.kimblefuneralhome.com.
Funeral arrangements were entrusted to the Kimble Funeral Home in Franklin.