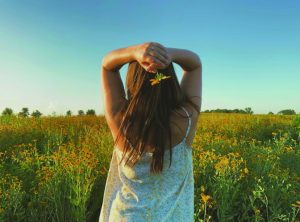 By Ammie Ruddle
Raised around the trees and rolling mountains of West Virginia, Mary Remsburg found her passion and became a classically-trained pianist. 
Remsburg was raised in Franklin and was a home-schooled student. However, she enrolled in some college courses at Pendleton County Middle/High School until she graduated in 2012. 
Upon graduation, she elected to pursue a degree in music education, with a focus in jazz and classical music at Shepherd University.
The daughter of Sharon Granofsky, Remsburg states her mother taught her how to play the piano in their "farmhouse living room." 
Remsburg is known in the music industry as "Mister Mae" and has been featured on multiple radio stations both in the U.S. and in the United Kingdom. 
"I feel lucky to have been raised in an area where there was not a lot of distraction, just family, friends, music, and vast amounts of mountains and rivers to explore," Remsburg stated. "I hope my story and music will encourage others to follow their passions and goals." 
She added, "I want to encourage people, not just Franklin, but all of West Virginia to follow their dreams, just like I did."
Remsburg will be featured on the podcast "Positively West Virginia" that will be available today. She will discuss her newly released songs that she claims, "are rooted in folk and Appalachian tradition."