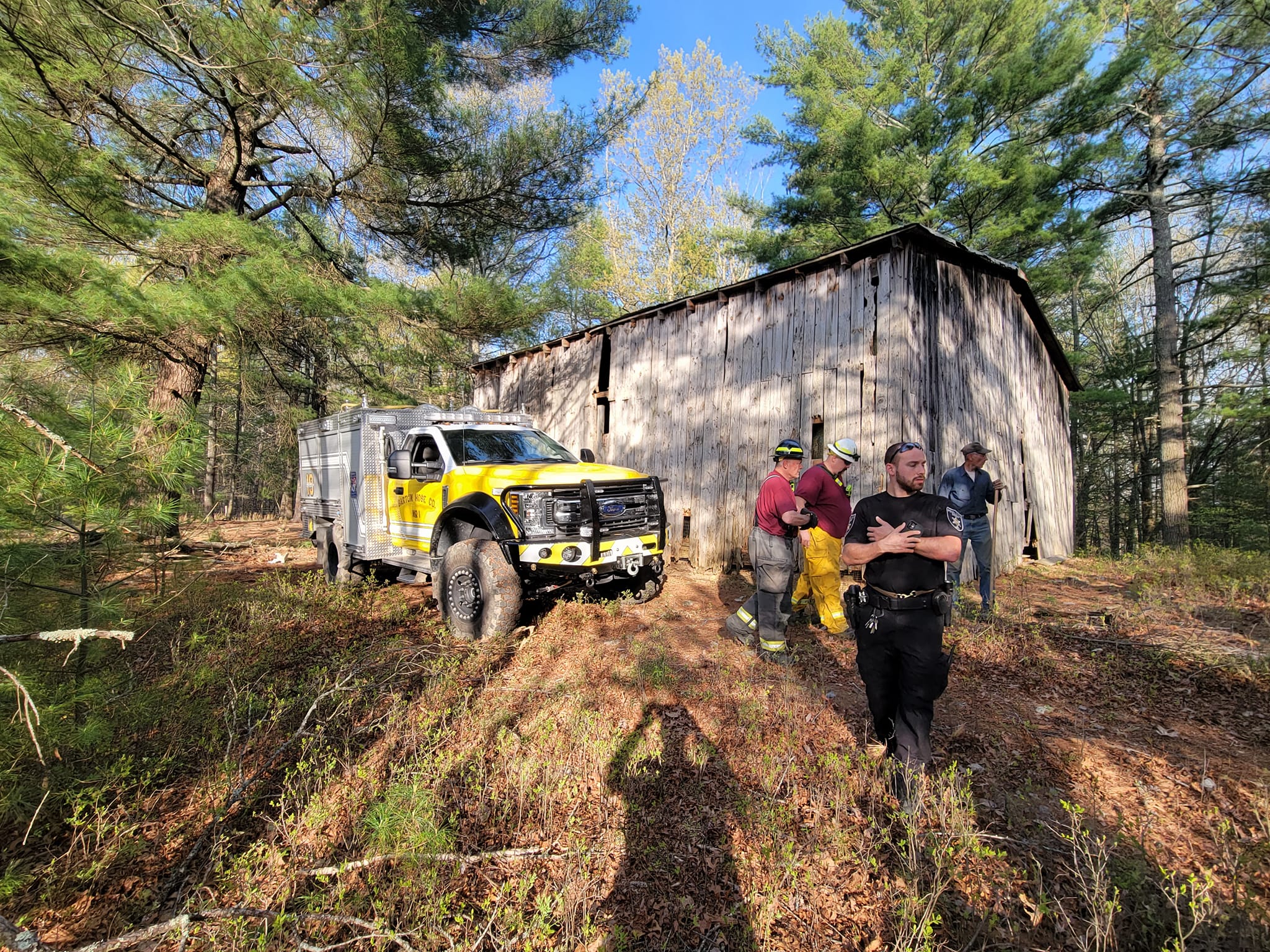 By Stephen Smoot
Last week, the West Virginia state government did what it could to bolster defenses against forest fires by launching a fire report platform and a burn ban. These efforts, however, could not prevent Mother Nature from wreaking havoc in the region with fire and smoke.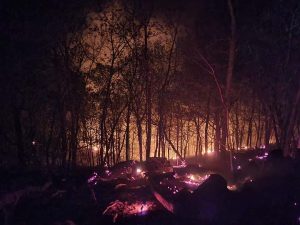 The Pendleton County community, with support from neighboring counties and states, rose to the challenge and responded powerfully.
Some time on Tuesday, falling trees struck live power lines in remote areas of Pendleton County, sparking three separate fires, at least initially.
The first reports came from the Smoke Hole area just after noon, bringing an immediate response from Upper Tract Volunteer Fire Department, the West Virginia Division of Forestry, and other supporting departments.
This was followed by an outbreak of a second fire near the intersection of Sandy Ridge Road and Thorn Creek Road. Units from Franklin and South Fork fire departments quickly extinguished the blaze that consumed less than one acre.
Later in the afternoon, Pendleton County 911 received reports of a larger and more serious blaze erupting in Hidden Valley along Smith Creek Road, just west of Franklin. The blaze came from the same type of source as the Smoke Hole fire, live power lines struck by a tree or trees. Rick Gillespie, Pendleton County emergency services coordinator, estimated the fire spread to 1,700 -1,800 acres.
Gillespie told Metro News that "downed, diseased, and dead trees" contributed to the spark and spread. He added that some fires had reached the crowns of trees 100 feet from the ground. 
Gillespie described to Metro News the strategy implemented. Responders constructed fire containment lines to protect property. As a result, as of Thursday, the fire had only consumed one cabin. Also as of Thursday, only two households had been evacuated. Even then, that was at the insistence of family in one case.
Pendleton County 911 also expanded its capabilities in response by "staffing up." As Gillespie said, they had "to handle the heavy volume and have done an outstanding job. They had heavy radio call loads and made numerous contacts to regional 911 centers in an effort to have additional resources respond to assist."
The West Virginia State Police and Pendleton County Sheriff's Department played key roles in providing law enforcement support for the efforts. To keep those battling the blaze as safe as possible, Pendleton County Emergency Rescue deployed ambulances to the scenes in case of injury.
Because of continuing dangerous wind and weather conditions, firefighters monitored the blaze as a controlled burn. This kept firefighters and other first responders safe while also allowing the fire to clear out debris and underbrush that created fire vulnerability in the first place.
Fire crews contained the smaller Smoke Hole blaze first. According to the Facebook page of the Upper Tract Volunteer Fire Department, in addition to the WVDOF, support came from Franklin, South Fork, Seneca Rocks, Petersburg, Moorefield, personnel from the Monongahela National Forest, Pendleton County Office of Emergency Management, Pendleton County 911, and local businesses who donated food and water that the ladies' auxiliary got into the hands of the men and women in the field.
By sunrise on Friday, the Upper Tract VFD reported the Smoke Hole fire fully contained "with Mon Forest personnel in charge of the scene." Fire crews limited the damage to approximately 85 acres. Along with the report provided on their Facebook page, Upper Tract VFD offered "prayers and support with everyone involved with the Franklin fire."
Water support in some areas came from Hinkle Trucking in Riverton who "volunteered and delivered a 9,800-gallon tanker trailer filled with water.  This allowed for a major backup supply on the mountain if needed, augmenting the hydrants." Gillespie explained.
The scale of the fire west of Franklin required a larger response and different strategy. Gillespie reported on his Facebook page "this day started as a Red Flag Fire day and it has lived up to that." 
By day two, the Hidden Valley fire expanded to approximately 1,500 acres with crews racing to protect property. One unit, as Gillespie described, "saved a barn with no time to spare." During the course of the fire, firefighters saved several other structures that were under imminent threat. The tide started to turn, however, despite the continued dry conditions. Gillespie could report real progress, saying "gains continue to be made."
Heroic gains came in spite of challenges from both terrain and limited infrastructure. As Gillespie described, "The Town of Franklin water lines along Entry Mountain Road keep rupturing when firefighters attempted to draw water from the fire hydrants. They failed four times during this fire. This caused firefighters to have to descend into Franklin to access hydrants there. Then, their return was slowed because the heavily loaded trucks must climb Halls Hill and Entry Mountain." 
Gillespie shared praise of Town of Franklin employees who responded quickly to firefighting needs, saying, "They have gone above and beyond, working through two consecutive sleepless nights repairing the water mains. They are to be commended for their dedicated efforts."
Friday, however, brought potentially devastating news when a fire sparked on the eastern slope of Seneca Rocks. Reports came to Pendleton 911 at 7:24 p.m. at which point units were dispatched. Emergency response came from the already hard, hit local units, as well as support from Grant, Randolph, and Rockingham (Virginia) counties. "We were very fortunate to get a quick response to the scene from fire departments who were able to leave the Franklin scene to help us start another fire attack on strenuous territory yet again." Seneca Rocks Volunteer Fire Department stated in a Facebook post, "Within approximately 1 – 2 hours we had over 50 volunteers in the woods attacking it."
The Seneca Rocks fire broke out on particularly unforgiving terrain with the rocks themselves providing a 900-foot vertical barrier. Units attempted to battle the blaze until the rugged terrain and darkness made the fight too dangerous for the crews on scene. Upon daylight, however, responders, including a 22-man federal "Hotshot" team, made quick work of the blaze. They succeeded in confining the damaged area to a mere 12 acres. The public face of the rocks was not involved or impacted.
Saturday brought a blessing in the form of continual rain showers. By 7 p.m., Gillespie reported that "the Hidden Valley/Entry Mountain fire was controlled and mostly inactive. All fire crews had secured from the scene," although patrols continued to monitor the area.
Petersburg Volunteer Fire Department during a 10-hour stretch during "a strenuous week" in support of Pendleton units also successfully battled a structure fire in Grant County. They stated, "We again can't thank our community and businesses enough for your outpouring support. It is appreciated more than you know. God Bless!"
Gillespie reported that 27 different volunteer and paid fire departments responded to the scene during the multi-day event. At least 269 fire personnel and six West Virginia Division of Forestry personnel were involved. Also, a multitude of citizen volunteers and local heavy equipment owners helped battle the fire. No less than three dozers, one skid steer with brush grapple, and one heavy excavator were involved in cutting fire lines and removing burnable debris.
Gillespie praised the work of responding units, saying "These folks came from a long distance. Several of them work their eight-hour job and then they come to our scene to work another several hours, return home, sleep a little, or none at all, back to work, repeat.  That is amazing!"