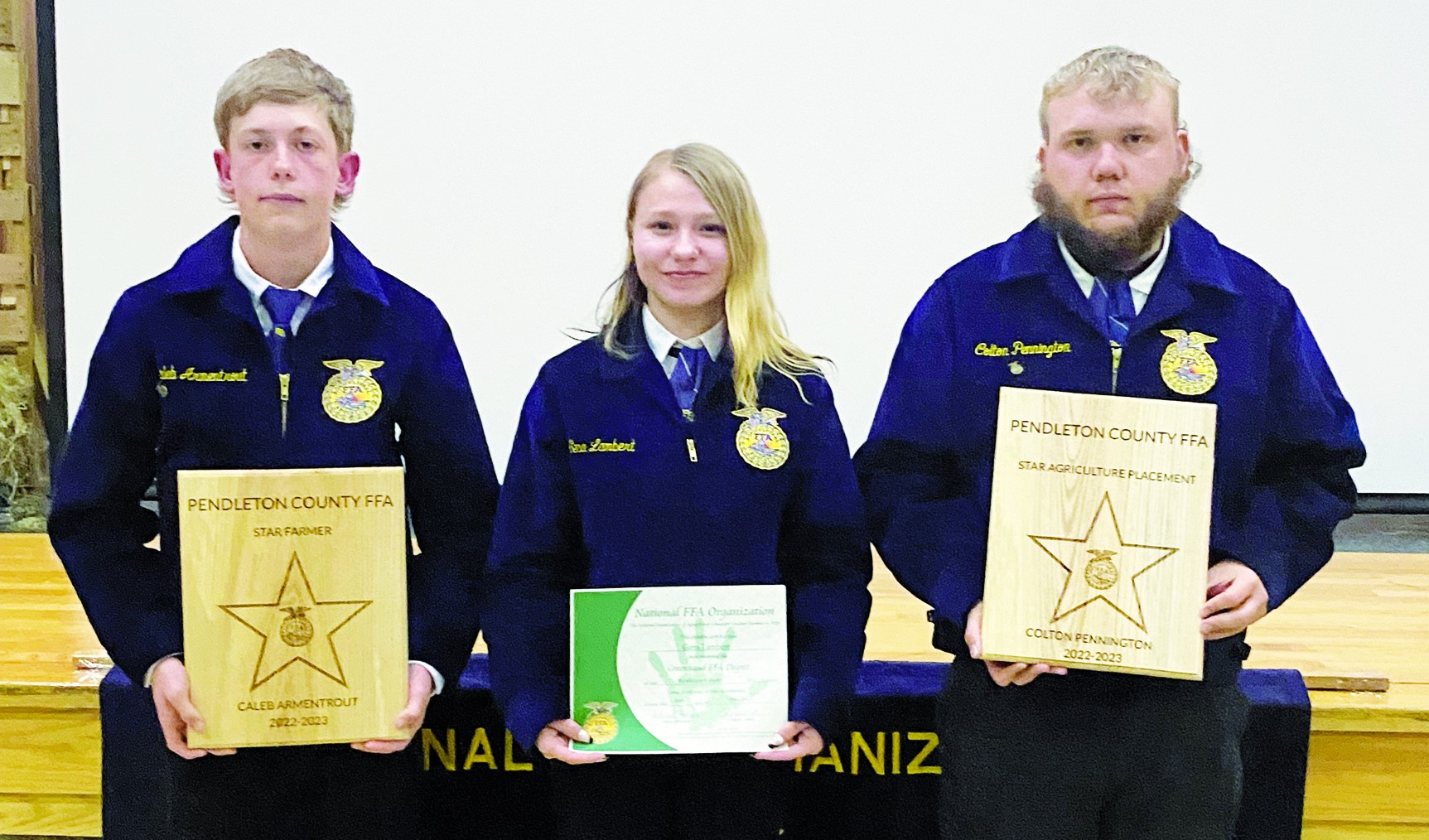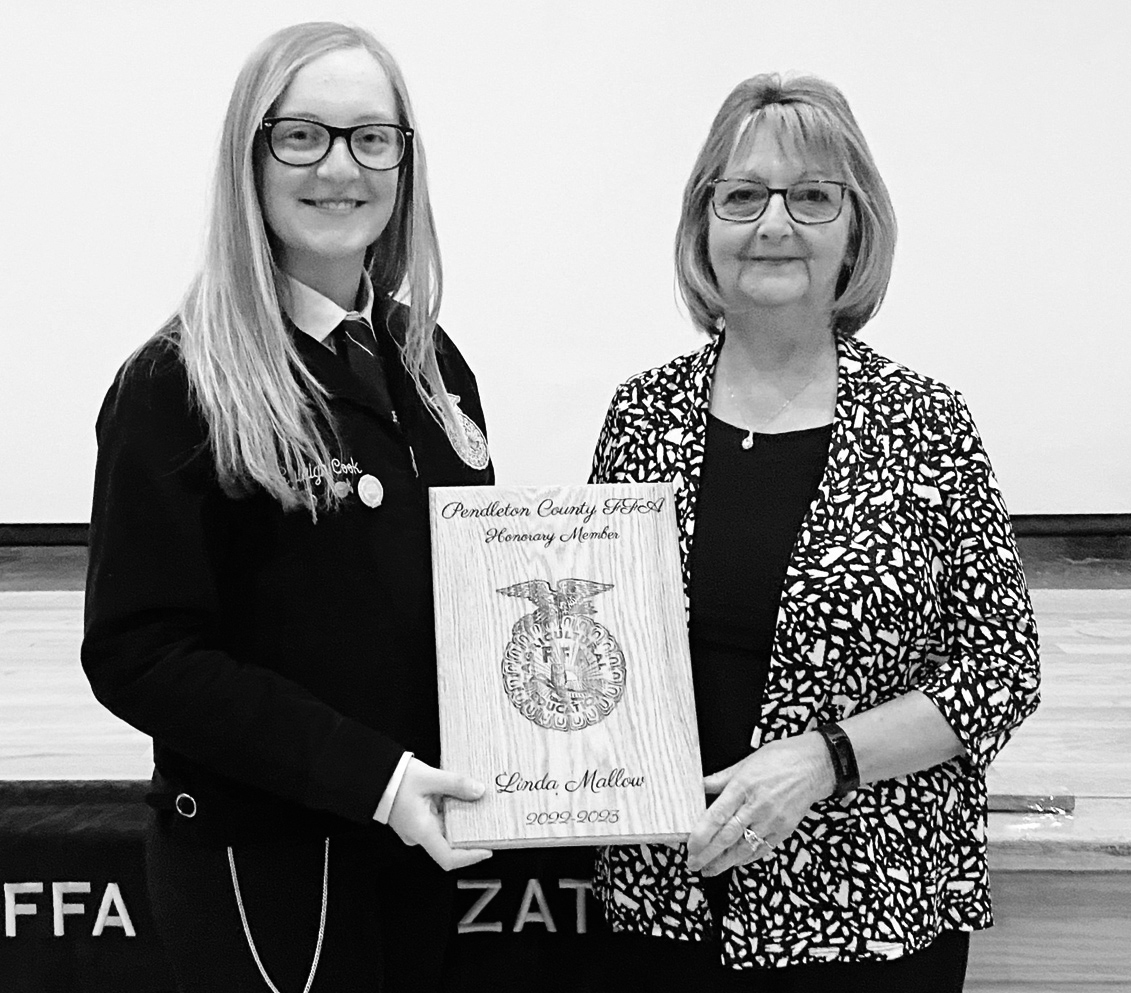 Blue jackets adorned the auditorium at Pendleton County High School Sunday as Future Farmers of America members celebrated another year of accomplishments at the chapter's banquet.
An FFA member knows that he/she can make a difference by telling the FFA story within a community as he/she strives to strengthen agriculture. As a chapter, FFA members can transform the message of agriculture, continue to work together in educating others on the importance of agriculture and make a positive difference in the future. Members develop their potential for premier leadership, personal growth and career success through agricultural education.
The Pendleton County FFA Chapter has 50 members.  
After Cody Mitchell led the invocation, FFA members and guests enjoyed a wonderful meal provided by Dean's Gap Farm.
The opening ceremony was presided over by Pendleton County FFA officers, Selena Hedrick, president, Lindsey Smith, vice president, Ryleigh Cook, secretary, Reagan McConnell, treasurer, Lydia Heavner, reporter, and James Ruddle, sentinel, and Ron Hudson, FFA advisor.
After a video presentation of the year's highlights, special awards and presentations were made.
FFA Greenhand Degrees were awarded Madison Arbaugh, Barrett Cook, Logan Fisher, Wille Fisher, Jaydon Hess, Braylin Hull, Cashton Kisamore, Gena Lambert, Isabella Lockard, Paigelyn Long, Jameigh Miller, William VanMeter and Brynlynn Waggy.
To earn a Greenhand Degree, FFA members must enroll in an agricultural education program and have plans for a Supervised Agricultural Experience, learn and explain the FFA creed, mission and motto and salute, describe and explain the meaning of the FFA emblem and colors, demonstrate an understanding of the FFA Code of Ethics, the proper use of the FFA jacket, the history of the organization, chapter constitution and bylaws and the chapter's program of activities, have access to the official FFA manual and student handbook and submit a written application for the degree.
Lambert was awarded the FFA Star Greenhand Award. She participated in parliamentary procedure, attended meetings and rode the FFA float in the Treasure Mountain Festival parade. She is the daughter of Kathy Warner of Circleville.
Recipients of the Chapter FFA Degree were Caleb Armentrout, Timmy Bogan, Brady Bowers, Abigail Engle, Bailee Kiger, Heavner, McKenna Hedrick, Jacob Mitchell, Julia Mongold, Colton Pennington, Hanna Pennington, Makayla Tingler, Jenna Smith and Lucas Vandevander.
Chapter degrees are awarded to FFA members who have completed 180 hours (or the equivalent) of systematic school instruction in agricultural education, have an approved SAE, enrolled in an agriculture course, participated in the planning and implementation of at least three FFA activities, earned and productively invested at least $150 or have worked at least 45 hours outside of class time, or a combination of the two, through their SAE, lead a group discussion for 15 minutes, demonstrated five parliamentary law procedures, show progress toward achievement in FFA award programs, have satisfactory academic record, completed a minimum of 10 hours of community service and submitted a written application for the degree.
The FFA Star Chapter Farmer Production award went to Armentrout, who had three different SAE programs: ham/bacon hogs, potatoes and market steers.  He made over $7,950. He is the son of Charles and Jennifer Armentrout of Circleville.
The FFA Star Chapter Agribusiness Placement Award, which is given to an individual who excels in the field of agricultural business, was presented to Colton Pennington. Working at Smith Farms, he has made and hauled hay, taken care of cattle through the summer, and completed other jobs as directed. He has worked over 600 hours in the past three years. He is a student pilot at Blue Ridge Aviation and the Shenandoah Valley Regional Airport in Weyers Cave, Virginia. He is the son of Christina Arbaugh of Circleville.
Selena Hedrick will receive her State FFA degree in July at the state convention in Ripley. In order to earn a State FFA Degree, members must have received a chapter degree, been an active member for at least two years, have completed at least two years (36 hours) of systematic school instruction in agricultural education at or above the ninth-grade level, earned and productively invested at least $1,000 or have worked 300 hours outside of the classroom through an SAE, demonstrated leadership ability by performing 10 parliamentary law procedures, given a six-minute speech on a topic relating to agriculture or FFA, served as an FFA officer or committee chairperson or committee member, maintain a satisfactory academic record, participated in the planning and implementation of the chapter's program of activities and in at least five different FFA activities above the chapter level and completed at least 25 hours of community service in a minimum of two different activities.
The Farm Credit Award, which is presented to a FFA member who excels in recording keeping and management, was earned by Lindsey Smith. The award was presented by Trey Keyser.
J.D. Heavner presented the annual Brandon Waggy Memorial Scholarship to Lindsey Smith and Cook.
Honorary chapter membership was presented to Linda Mallow.
Mallow was born Jan. 12, 1958, in Harrisonburg, Virginia, to the late Henry and Pauline Roberson of Ruddle. She still resides in Ruddle with her husband of 44 years, Danny. She enjoys going to the beach, shopping and bossing her husband around and also cherishes her children and grandchildren. She graduated in 1976 from Franklin High School and then attended vocational school for nursing. She has been the school's secretary for 27 years.
Honorary membership is bestowed upon individuals who have rendered outstanding services to help advance agricultural education and the FFA.
Seven FFA members participated in the annual South Branch Ham, Bacon and Egg Show. Those members were Armentrout, Lydia Heavner, McKenna Hedrick, Selena Hedrick, Kiger, Lindsey Smith and Tingler.
The Smith Golden Orange Award was presented to Lindsey Smith who sold more than 138 units of fruit.
The livestock team participated in the McCalls Livestock Challenge March 18 in Harrisonburg, Virginia. Team members were Braden McCoy, who placed second overall, Kiger, Lindsey Smith and McKenna Hedrick. The team placed 14th out of 45 teams.
The poultry evaluation career development event tests students' skills in the production, processing and marketing of chickens, turkeys, processed poultry products and eggs. This year's participants were Lydia Heavner, Kiger, McCoy and Lindsey Smith.
Lydia Heavner participated in the extemporaneous public speaking leadership development event. Participants are given 30 minutes to deliver a speech on one of three assigned agricultural topics. Students must learn to think on their feet and develop an argument quickly and persuasively.
The parliamentary procedure team consisting of Lydia Heavner, Kaylee Callison, McKenna Hedrick, Tingler, Lambert and Alexandria Perry placed first in the regional competition. The team will be representing the eastern region at the state convention.
Chapter leadership awards were present to Lambert, Madison Arbaugh and Larissa Greathouse, ninth grade; Lydia Heavner, Tingler, and Armentrout, 10th grade; Callison, Kiger, and Hanna Pennington, 11th grade; and Lindsey Smith, Selena Hedrick and McCoy, 12th grade.
During FFA Week, members traveled to the county elementary schools talking about the importance of agriculture and FFA. The theme of this year was corn. Students in grades preschool to third grade were given coloring contest sheets. Winners of the annual coloring contest were awarded a medal at the banquet. Receiving this honor were pre-kindergarten – Christian Tingler, North Fork Elementary School, Dylan Hensley, Brandywine Elementary School, and Jaylynn Hedrick, Franklin Elementary School; kindergarten – Benson Harper, NFES, Cooper Wimer, BES, and Charli Hiett, FES; first grade – Layla Warner, NFES, Skylar Hottle, BES, and Lola Brooks, FES; second grade – Andelyn Vance, NFES, Gracie Hedrick, FES, and Aubrey Pitsenbarger, BES; and third grade – Sadie Wimer, NFES, Bristol Bowers, FES, and Michelina Browder, BES.