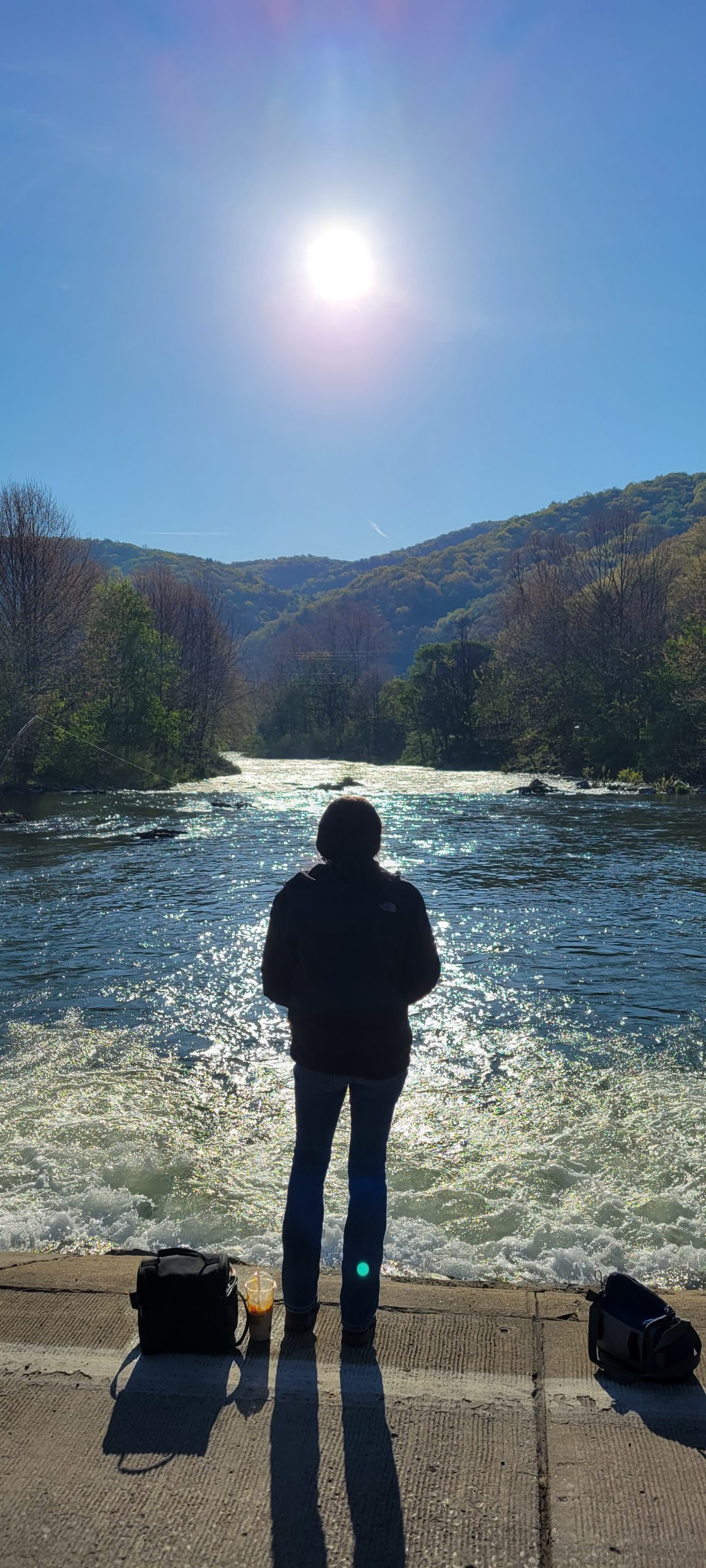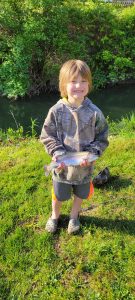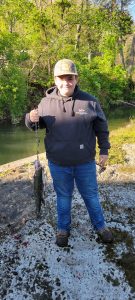 By Stephen Smoot
After recent years of seeing COVID and other acts of God preempt Trout Fest, attendees and organizers got to enjoy perfect weather and conditions. 
Friday night festivities started at 4:00 as the doors opened for dinner in the community building. Diners could eat in on tables prepared with cloths or take their meal home. All could enjoy delicious marinated chicken and/or trout, macaroni and cheese, green beans, and a biscuit. A massive mound of different desserts, all sliced and packaged, was available as well.
At 6 p.m., Nat Frederick took the main stage with the cheers from the nearby softball sectional game providing a great spring background. 
Meanwhile organizers and volunteers rushed everywhere and worked hard to ensure that all events went off as planned. Brooke Alt, one of the organizers, explained that "you always worry about the weather, and if people are going to come out, but we had a great year!
Saturday morning broke clear and cold with cobalt blue skies, minimal clouds, and temperatures that started in the high 30s, but rose rapidly into the 60s throughout the morning. Volunteers woke early to provide breakfast and take registrations at the senior center building in Franklin. 
Janice Lantz, executive director of Pendleton County Senior and Family Services, noted that traffic over the morning "picked up and it's good." Proceeds from the breakfast "support the senior center programs across the board," but she specifically mentioned transportation and nutrition programs needing the funds. 
Listeners of West Virginia Metro News heard about Trout Fest on Chris Lawrence's West Virginia Outdoors program. He broadcasted between seven and eight, talking to Elizabeth Scott, one of the chief organizers of the event, Amber Nesselrodt, executive director of the Pendleton County Convention and Visitors Bureau, among many others.
Charleston-based Lawrence arrived the night prior, joining those attending the Trout Fest dinner. He said, "I've had just a wonderful time with wonderful people. I enjoy immensely everyone up here." He added, "It's a great place for fishing and a great place to spend a vacation whether it's a weekend or a whole week."
The rodeo started at 8 a.m. sharp with stream marshals in place to monitor the contest. "We are here to oversee everything and no one breaks the rules," said Jessica Hoover, one of the marshals. She added that they check the tags, then "make sure they've registered and get their tag number off the trout."
Stream marshal Wesley Mills remembered starkly different conditions in 2022, describing that "it was bad last year. They couldn't even fish." Hoover followed with "it rained just enough this week that the water is a good level."
As is appropriate for a family friendly event like Trout Fest, children enjoyed some of the earliest catches. Kolby Kimble, aged 12, may have snagged the first fish. He said that catching the fish felt "good. Kimble suggested that "there's tagged trout, if you want money, come get some."
Just 20 feet away, seven-year-old Nathanael Vincell, under the watchful eye of big brother James, shortly thereafter pulled in his own tagged trout from the spillway marked off for ages 12 and under. He said catching the fish was "awesome!" He also said he was "really excited!"
Not all Trout Fest fans come for the riverbank excitement. Doors also opened at the flea market and vendor buildings. 
Dave and Kim Moore came from Craigsville, a two and a half hour drive over mountain highways, to sell their fishing supplies at Trout Fest. "This is our first time here," Dave Moore explained, adding that "we didn't know it existed." His wife then said "we saw it on Facebook."
"I used to come here in the 70s with my dad and all his friends. We always loved it up here," said Dave Moore." The Moores "sell fishing and hunting paraphernalia, all made by hand." Products include flies, fly boxes, handmade knives, and other supplies. They named their business "Kossie Flies" after his grandfather. 
"We fished, hunted, tied flies all the time. We come from a big family," he remembered.
Close by was a stand set up by Michael Didawick and his wife for their Bait and Tackle Barn. The Fort Ashby based business chose to travel almost two hours to Franklin from Mineral County instead of setting up for the well-attended festival in their hometown.
Didawick explained that "I'm just getting started, but I am opening a shop in Fort Ashby." He explained that the business had the support of the whole family. "They help me promote my business. They send people my way. They really want me to make it." Even the couple's grandchildren volunteered to watch their family dogs while they sold at Trout Fest.
Fishing remains the heart and soul of Trout Fest and families lined the banks and roads to take their shot at the grand prize while enjoying a blissful morning casting their lines.
The Rowe family, including Billy, Tammy, Sadie, Molly, Journey, and Courtney, as well as Rhett Kirby, fished off of Dickenson Mountain Road and the adjoining riverbank just south of town. Parents Billy and Tammy watched their children fishing from the east bank of the gurgling and rushing South Branch. 
Not far down the road, Allison Vincell watched her sons as they waded into the river to try to hit their limit. By now, it had been hours since Nathanael had caught his tagged fish, but he and his brother remained determined. 
For the Vincells, Trout Fest has remained a family staple for years. She explained that "when we first started coming down here, James was four. We'd have snacks and get set up." She went on to say "as James has gotten older, he loves to fish. He and Joe took Nathanael and taught him how to fish." She also said "even my parents from North Carolina would love to come up for this."
Back on the main stage, attendees enjoyed music on Saturday from Justin Hensley, Corey Hager, the Micayla Curry Band, and Spencer Hatcher and the Ol' Son Gang. Raymond's Gymnastics also provided a tremendous exhibition of their performers and art.
Trout Fest does not simply set itself up, but requires long hours from dedicated volunteers. Mary Frances Wadsworth from Sugar Grove noted that Alt and Scott "pretty much did everything for the festival, plus they are both involved in a lot of other things too." She added that "Elizabeth, she's everywhere and that is a good way to describe what she's doing. She's everywhere!"
Alt explained that "the organization process for West Virginia Trout Fest starts months in advance." Committee meetings commence in January for initial planning and putting it together. She added that "we have great sponsors in our community who volunteer and donate money to the cause." 
The highest level sponsors include Greer Lime, who paid for the fish from Sugar Grove Trout Farm, Lakeside Books, who printed the brochures at no cost, Pendleton Community Bank, Three Rivers Guiding, who sponsored the $1,000 grand prize, Pendleton Community Care, Trails End Outfitters, and Potomac Hardware.
In addition to Scott and Alt, some of the most active organizers and volunteers included Tom and Teresa Calhoon, Bob Grimm, Sue Slowinski and Janice Lantz from Pendleton Senior and Family Services, Theresa Kimble from T&K Markets, Chelsey Simmons from Pendleton Community Bank, Jessica Hoover, and Scott Rightsell who did much to provide the delicious dinner.
Anglers caught 22 tagged fish this year with prizes ranging between $5 and $50. The grand prize fish, unfortunately, eluded capture this year.
Local businesses displayed decorated trout in their windows. Winners of the window display contest were Trail End Outfitters earning first place. T&K Markets and The Hollow Restaurant tied for second place with Pendleton Community Bank placing third.
Alt reflected that "it's truly a community effort to pull something like this off."