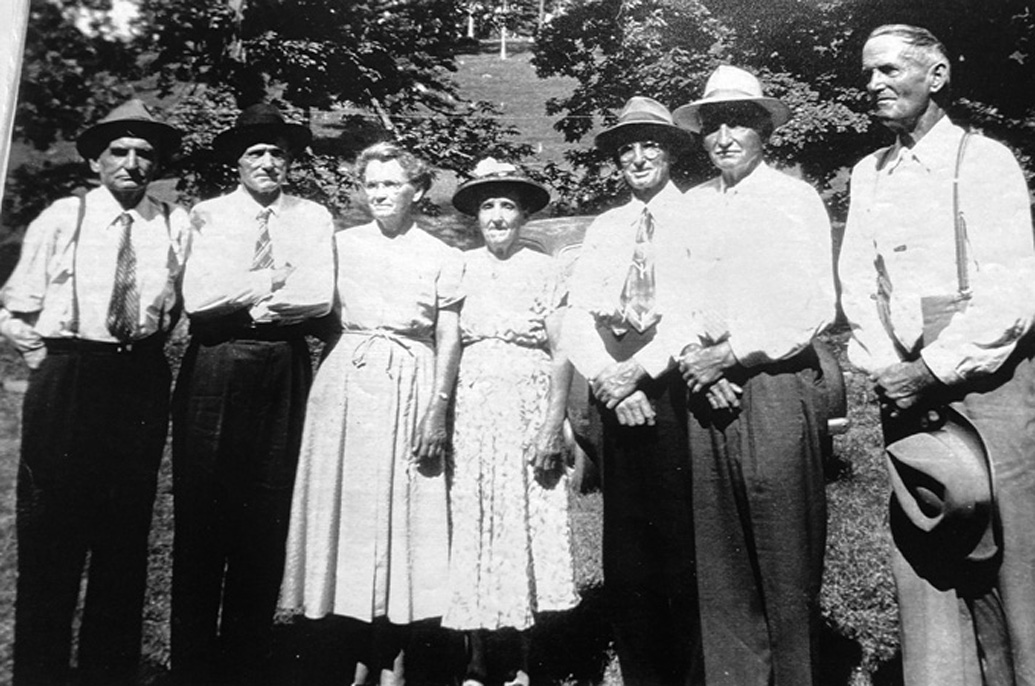 Sugar Grove
By Paula Mitchell
Ever wonder why one says some of the things that mark the inherited words and phrases in the everyday language?  Take for instance…
Handwriting on the wall — Ancient Babylon flourished under the rule of King Nebuchadnezzar.  However, his son, Belshazzar, (who became a weak ruler) drank heavily from the holy vessels seized from the Temple of Jerusalem. A mysterious hand appeared to write four strange words on the wall of the banquet room after this act of sacrilege. Only the prophet Daniel could interpret the mysterious message. He boldly told the ruler that the words spelled disaster for him and his nation. Shortly after that the king was defeated and slain, just as Daniel had said.  Religious dramas of the Middle Ages often included the vivid interpretations of these events.  As a result, any threat of impending doom is still known as "handwriting on the wall."

Read Between the lines — Writing in code had been devised long ago. The rise of cryptography dates from the 16th century.  Rulers, military leaders, diplomats, leaders and business executives adopted the practice of writing in code. Ordinary folk fascinated with this mystery concluded that the meaning was not in the lines but in the space between them.  Writing between lines with invisible ink strengthened this notion.  Over time, the interests in secret writing eventually waned. Language had already been enriched. Reading between the lines came to suggest the finding of inferences in any document.  

Upset the Apple Cart — Vendors are still common on the streets of some English cities. Most of them display food in sidewalk stands or booths. Americans selling apples on the streets began to use carts to move where potential customers were most abundant. When a vendor of apples struck a rut or cobblestone too hard, he upset the apple cart-causing fruit to roll in every direction. This kind of accident occurred often enough to give its name to any unexpected incident that stops execution of a set of plans.
Now that these phrases have more meaning, try using them in one's everyday language.  It will definitely spice up conversation.   
Life's instructions to make one's day better include the following:
Always respect people, the flag, and one's country.

Stop for school buses.

Compliment the cashier for doing a great job.

Send a card to someone on the concerns list.

Be on time.
The community is welcoming any form of rain as it is in need of it. The river is at an all-time low. Nights are cooler which makes one to sleep with windows open. The days remain hot even though the humidity has been lowered.  
This week's clickety-clacks for the chin waggers include the following:
Mount Vesuvius is mainland Europe's only active volcano.
It is estimated that the black marlin can swim up to 82 m.p.h.
The only poisonous mammal in the world is the male duckbill platypus.
Wasps made paper nests long before man invented paper.
Only three people in a hundred are naturally red-headed.
Sitting on the porch swing is the best place to hear the "Talk of the Grove."
The 109th Thomas Jackson Puffenbarger family reunion was held Sunday at the West Rockingham Ruritan Park in Hinton, Virginia.  A fun time was had by all in attendance.
Recent visitors of Rosalee Grogg were Marleta Wimer, Steven Grogg, Dakota, Danielle, Braxton and Blakely Grogg and  Dora, Isaiah and Vance Grogg.  Braxton is celebrating his birthday on Sept. 11.  Hope he has a happy birthday.
Kinsley Armstrong turned 16 on Aug. 31.  She is the daughter of Tracy and Bobbie Armstrong.
Geneva Mongold accompanied Evelyn Varner to Staunton, Virginia, to attend the Gordon Smith reunion.  Geneva then spent the night with Judy Costello before returning to her home on Sunday.
Phil Downs also attended the Gordon Smith reunion.  He reported that the oldest person there in attendance was 98-year-old Cleo Simmons with the youngest being 1 month old.  His visitors were Tara Kelley and Amelia Gibson of Springfield, Virginia, who visited on Tuesday, and Susie Ruffner and her daughter, Sue Ellen Racey of Romney, who visited Saturday.
Quotes for the week are as follows:
"We gotta really watch how quickly we like to say we deserve something…we can earn things, but I don't think we deserve things." — Matthew McConaughey
"There are two theories to arguing with a woman.  Neither works." — Will Rogers
"A real friend is one who walks in when the rest of the world walks out." — Walter Winchell
"Age is something that doesn't matter unless you are a cheese." — Luis  Bunuel.
"Reading aloud to children is known to be the single most important activity for building the knowledge and skills they will eventually require for learning to read." — Marilyn Jager Adams
Concerns for this week are many, and they are as follows: Charles Anderson, Lynn Beatty, Jack Bennett, Bill Brackman, Scherry Chambers, Charlotte Copley, Jeff Craig, Ralph Dunkle, Jeff Evick, Lee Roy and Ina Evick, Mary Eye, Ron Gilkeson, Barry Gordon, Lola Graham, Marlene Harman,  Steve and Armanda Heavner, Starr Hedrick, George Hevener, Gary and Jackie Hills, Virgil Homan, Jr., Charlee Marie Hoover, Keith Hoover, Lorena Hoover, Myrtle Hoover, Enos Horst, Bob Hurry, Alice Johnson, Richard Judy, Melissa Lambert, Robin and Kitty Lambert, Robert Lambert,  Rex Landis, Angela Lung, Linda Malcolm,  Betty Mallow, Roger and Skip Mallow, Yvonne Marsh, Neil McLaughlin, Naomi Michael, Joe Moats, Lincoln Moore, Ernie Morgan, Aaron Nelson, Kathy Nelson, Ken and Ruth Nelson, Bennie Nesselrodt, Cheryl Paine, Sutton Parrack, Ronnie Pitsenbarger, Wanda Pitsenbarger, the Billy Pratt family, Alda Propst, Betty Lou Propst, Kara Propst, Kathy Propst, Linda Propst, Marilyn Propst, Sheldon Propst, Pam Rexrode, Donna Ruddle, Bernie Sasscer, Barbara Simmons, Emily Simmons, Erin Simmons, Eva Simmons, the Kittie Simmons family, Robbie Sites, Ona Smith, Stanna Smith,  Patricia Swecker, Rosa Tichenor,  Sandra Vandevander, Jack Vogel, Judy Waggy,  Ron White, Judy Williams and Larry Wimer.