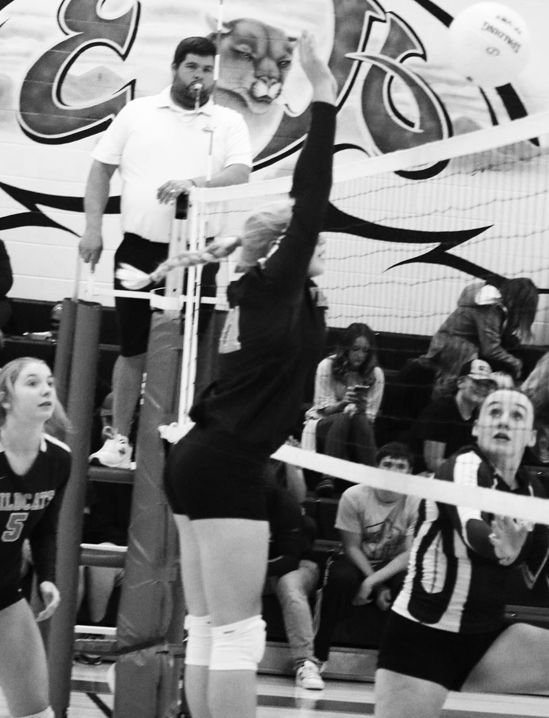 By Stephen Smoot
When the Pendleton County volleyball team traveled north to East Hardy last week, they might have just seen a glimpse of what their own future holds.
The senior and junior dominated Cougars employ a style that Pendleton County should find very familiar. East Hardy relies heavily on aggressive and athletic play at the net, using disciplined sets to exploit weaknesses in the defense. 
Unlike the Cougars, however, the Wildcats are younger and still mastering techniques and precision even as they themselves have developed into an intimidating force.
In game one, Pendleton County pushed to an early lead on the strength of Baylee Beachler's strong serving. To counter East Hardy's strength at the net, the Wildcats attacked Cougar spike attempts with a double team of tall defenders, a tactic that worked well much of the night. Beachler, Kate Hedrick, and Gabrielle DePue were usually involved. East Hardy would increasingly use diverse styles of sets to avoid that tactic as the game went on. 
For the first half of game one, the Wildcats held East Hardy at bay. After the Cougars pulled within one at 5-4, they remained within one or two until tying the score at 14. They then went on a 10-4 run, pulling ahead 24-18. East Hardy miscues and strong serving by Avery Townsend, which included an ace, let the Wildcats claw back to a 24-21 deficit, but a Cougar shot to the backline ended game one 25-21.
Using an extra player to block spike attempts kept Pendleton County close the entire night, but East Hardy's athleticism, experience, and precision helped them to find the holes sometimes left open in the back line. 
In game two, the Wildcats rebounded. Although falling behind 7-4 at first, Pendleton County pushed into the lead with a 13-9 run. 
That run started with powerful serving by Arianna Young, who scored an ace and benefited from a Townsend spike. Allie Cooper and Elizabeth Alt also served well, backed up by two Beachler spikes during their service, helping to push the lead to 20-13.
East Hardy tried to rally, but found themselves shut out by a Young spike. Young then took the serve and scored an ace, while Hedrick unleashed a powerful strike. The final of game two was 25-20.
Game three featured a titanic and, generally, even struggle between two talented teams. Neither team enjoyed more than a two point lead throughout. Early in the game, Jenna Smith's line drive serves helped to keep the Wildcats even. Alt supported her efforts with a rare spike of her own. Since Alt usually sets the table for her teammates, her aggressiveness caught East Hardy off guard. Shortly thereafter, she used a finesse tap to pull her team to within one point, setting the score at 8-7 East Hardy.
Later in the game, Emma Hartman stepped in to serve up an ace to put her squad up 13-12.
Down 22-20, the Wildcats responded with two power spikes by Young to tie the game and inspire a Pendleton County crowd that remained raucous in support much of the night. 
Game four started out similar to the previous with the two squads going back and forth. Powerful play at the net by Young and Hedrick, combining blocks and spikes, maintained momentum for the Wildcats.
East Hardy went on a 10-5 run to extend the lead to 24-20, but Pendleton County never stopped battling. Excellent serving by Cooper and strong defense from Alt brought the Wildcats to within two at 24-22, but an East Hardy spike concluded the game and the match. 
Coach Rod Cooper praised the effort, saying "We played hard. That's a good volleyball team they have." He added that the East Hardy team played with strong desire and that "sometimes you have to be humbled to learn."
Assistant coach Madison Gargas explained that the Wildcats unveiled a new wrinkle during the contest. She said "this was the first game where we used middles." "Middles" is where a team uses precise and planned player movements during sets as misdirection to send shots in unpredictable locations. The Wildcats used this play to good effect repeatedly during the game. 
Results from the game at Union and against Elkins were not available. The Wildcats will host Tucker County on Oct. 24.