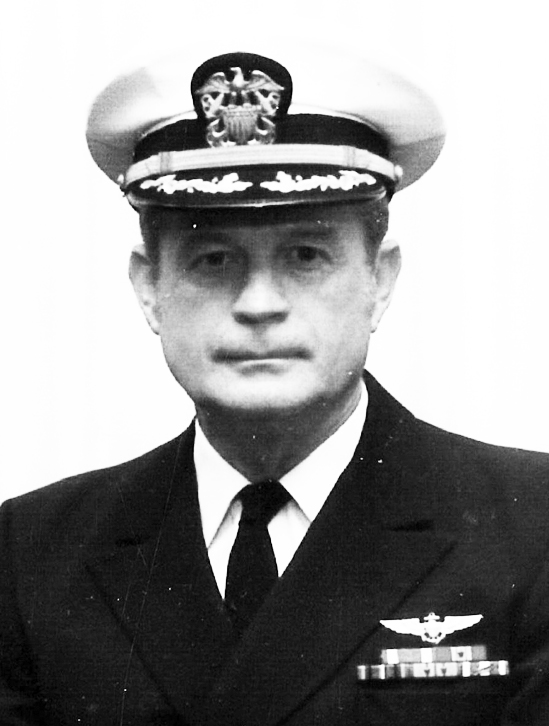 Commander Elwood Nicholas Harper, USN (Ret), 90, of Sallisaw, Oklahoma, passed away on Sept. 15, 2022, in Vian, Oklahoma.
He was born on Oct. 25, 1931, in Franklin to the late Margie Ella (Teter) Harper and Wilbur W. Harper.
Mr. Harper grew up on the family farm, north of Franklin, and attended both Franklin Grade and High School. In 1954, he graduated from Berea College in Berea, Kentucky; immediately entered the U.S. Navy as a Naval Aviation Cadet, and in September 1995, he received his Navy pilot wings and commission as Ensign. As a pilot, he flew from the decks of seven different aircraft carriers. During the Vietnam War, he was the flight deck officer on the USS Intrepid, responsible for landing countless air strikes over Vietnam. His last Navy duty station was commanding officer at the Naval Torpedo Station in Lualualei, Hawaii.
In 1981, he retired from the Navy with 27 years of service and the rank of commander. He immediately started a second career as a jet flight simulator instructor for Lockheed Martin for 22 years at NAS in Corpus Christie, Texas, and NAS in Pensacola, Florida.
In 2008, he and his wife moved to Brushy Lake, Oklahoma, near Sallisaw, Oklahoma, to escape hurricanes and be closer to family. He enjoyed watching college football, fishing, walking his dogs and observing wildlife.
His wife, Gloria Louise Harper, preceded him in death.
Surviving are a daughter, Valarie, her husband, Av, and granddaughter, Elianna of Cos Cob, Connecticut; two stepsons, Greg Haas and Jeff Haas and wife, Deidre of Sallisaw, Oklahoma; a stepdaughter, Deborah Somer of Scottsdale, Arizona; and other relatives and friends.
He was also preceded in death by four sisters, Marylee, Christine, Freida and Janet; and five brothers, Kenneth, George, Paul, Bard and Wilbur, Jr.
A graveside service will be held at 2 p.m. Friday at Cedar Hill Cemetery in Franklin with military honors by the U.S. Navy.
Memories and words of comfort may be left at www.basagic.com or on Facebook at Basagic Funeral Home.