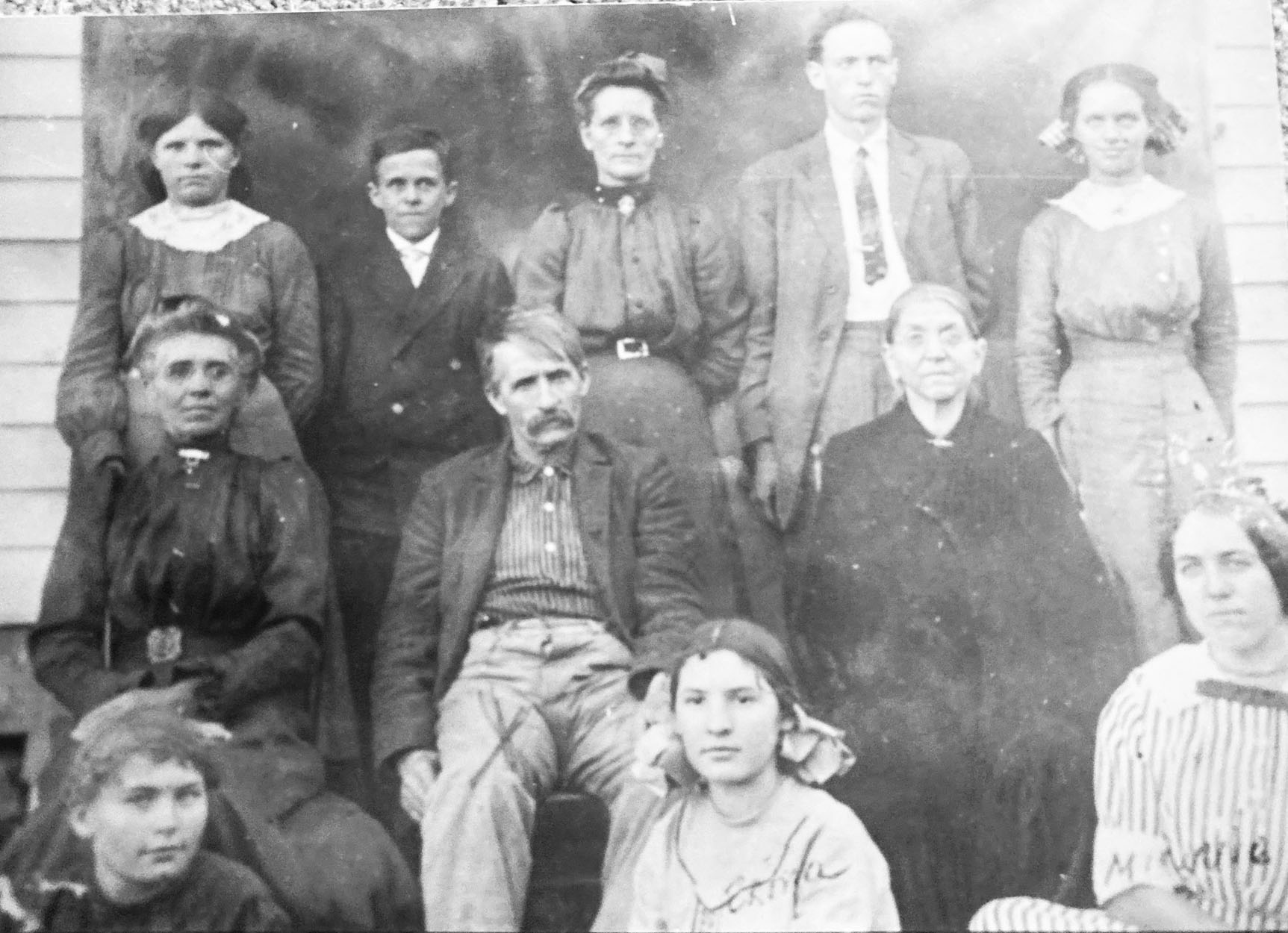 Sugar Grove
By Paula Mitchell
When the Germans settled in this community, it was obvious that the women were remarkably neat housekeepers.  They were remarkable for their fine milk, butter, and bread.  They consumed in their diet less animal flesh and more vegetables, milk and butter than most other people.  Their sauerkraut constituted a considerable part of their living in the winter.
This sauerkraut was made from the best cabbage. A box about three feet in length and about seven inches wide with a sharp blade fixed across the bottom was used for cutting the cabbage. The head, separated from the stalk and stripped of the outer leaves, was placed in the box and ran back and forth.  This cut up cabbage was placed in a barrel, crock or tub, a little salt sprinkled on it from time to time and then pressed down closely.  When the barrel was filled with cabbage, it was covered with grape leaves, followed with a plate on which a rock was placed.  A cloth covered the tub, barrel or crock which was then put in a cellar.  
It acquires a sourish taste after three or four weeks.  It was used on board ships to be the best preventative known for the scurvy.  The use of this wholesome food has become pretty general among all classes of people.
Their homes held the simplest and plainest kind of furniture, with a long pine table fixed in one corner of the kitchen, with permanent benches on each side.  Their beds were usually filled with straw or chaff, with a fine feather bed covering for winter use.  Many children were added to the family.  They were also involved with the work on the farm as they grew older.  
The women were hard workers.  Besides baking the breads, there were other laborious chores added to the mix: making butter, milking the cows, keeping house, washing and ironing clothes, spring cleaning, sewing clothes, making quilts and canning the vegetables to name a few.  
Oftentimes, the women would join their husbands and sons in the labor of their fields.  Many of them used the hoe or the plow.  The farms were generally small and nicely cultivated.  They demanded greatest care and attention.  The natural result of this kind of rural life was to produce a vigorous and hardy race.  
Life's little instructions include the following:
Put a surprise note in a neighbor's mailbox wishing them uplifting thoughts.

Thank the Fed EX/UPS and mail deliverer.

Clean out closets and donate one's clothes.

Pick up the phone and let someone know a person is thinking of them.

Smile. 
The weather has taken on a change.  This balmy weather will be hard to say "goodbye" to in a short time.  Pastures are such that farmers have begun to feed hay to their cattle.  Rain is very much needed in this community.  Sunday morning showers were readily received.
This week's quotes to enjoy are as follows:
"Of all the seasons, autumn offers the most to man and requires the least of him." — Hal Borland
"Lettin' the cat outta the bag is a whole lot easier'n  puttin' it back." — Will Rogers
"A hero is someone who has given his or her life to something bigger than oneself." — Joseph Campbell
"As the family goes, so goes the nation and so goes the whole world in which we live." — Pope John Paul II
Sitting out on the porch or patio is a great place to hear the "Talk of the Grove."
The West Virginia Department of Highway workers have done a magnificent job at cutting the brush and "thickness" along both sides of the highway.  Not only does it look better; it enhances visibility immensely.           
Visiting with Rosalee Grogg were Judy Rader and Marleta Wimer.  
The local Boy Scouts are collecting for CAN this coming Saturday.  Please make every effort to support this cause.      
Clickety-clacks for the chin waggers are as follows:
Opossums don't get rabies and they eat ticks.

In ancient times, strangers shook hands to show that they were unharmed.

Intelligent people have more zinc and copper in their hair.

The earth gets 100 tons heavier every day due to falling space dust.

Soldiers do not march in step when going across bridges because they could set up a vibration which could be sufficient to knock down the bridge.  
Remaining November birthdays are as follows: Paula Mitchell and Brady McClanahan, 16th; Woodrow Hartman, 17th; Kasara Kiser, Chip Harper and "Pidge" Anderson, 18th; Deloris Adkins and K.D. Puffenbarger, 19th; Gary Simmons, 20th; Gerald Rexrode, Roger Hoover and Bradley May, 21st; Rick Adkins and Harry Lee Scott, Jr., 23rd; Brandon Reel, Mary Catherine Cassell and Joni Nelson, 25th; Lee Roberson, 26th; Austin Simmons and Gracie Mitchell, 28th; George Hamel and Greg Smith, 29th; and Danny Crider, 30th.
Concerns for this week are many, and they are as follows: Mercedes Aumann, Charles Anderson, Bill Arrington, Vernon "Fuzzy" Baldwin, Lynn Beatty, Jack Bennett, Jimmie Bennett, Bill Brackman, Charles Burgoyne, Jeff Evick, Ina Evick, Dan and Margaret Ferrell, Ron Gilkeson, Lola Graham, the Shirley Hammer family, Marlene Harman,  Steve and Armanda Heavner, Everett Hedrick, Starr Hedrick, Gary and Jackie Hills, Virgil Homan, Jr., Charlee Marie Hoover, Keith Hoover, Lorena Hoover, Myrtle Hoover, Enos Horst, Doris Hull,  Bob and Cynthia Hurry, Lisa Dawn Jamison, Alice Johnson, Kim Kline, Richard Judy, Melissa Lambert, Tammy Lambert, Robin and Kitty Lambert, Robert Lambert,  Rex Landis, Angela Lung, Linda Malcolm,  Betty Mallow, Roger and Skip Mallow, Neil McLaughlin, Naomi Michael, Gloria Moats, Joe Moats, Lincoln Moore, Ernie Morgan, Shelby Morrison, Aaron Nelson, Ken and Ruth Nelson, Bennie Nesselrodt, Cheryl Paine, Sutton Parrack, Shirley Pratt, Alda Propst, Betty Lou Propst, Betty Shay Propst, Kathy Propst, Sheldon Propst, Mary Puffenbarger, Verla Puffenbarger, Pam Rexrode, Donna Ruddle, Annie Simmons, Barbara Simmons, Davey Simmons, Erin Simmons, Eva Simmons,  Robbie Sites, Ona Smith, Stanna Smith,  Patricia Swecker, Rosa Tichenor,  Sandra Vandevander, the Jack Vogel family, Ron White, Judy Williams, Larry Wimer and Junior Wimer.