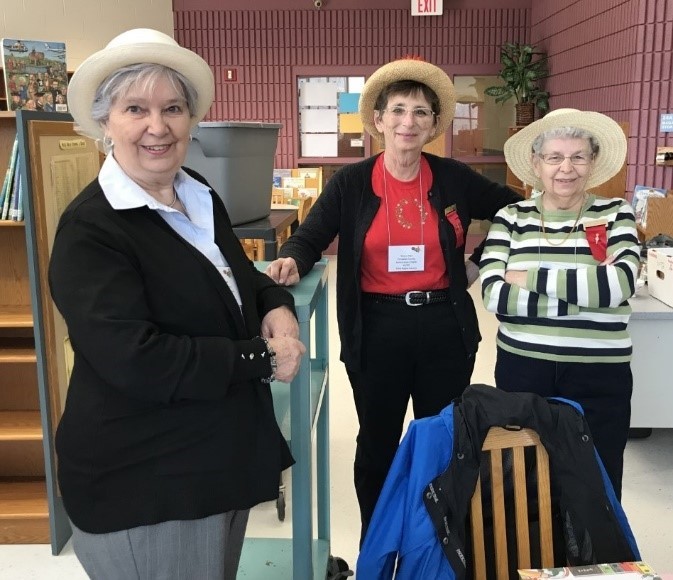 By Susan Garrett
Hardy County
The Alpha Kappa Chapter of Delta Kappa Gamma Society International met April 1 at Moorefield Middle School in Moorefield with Hardy County members as hostesses.  Using a Garden Tea Party theme, tables were decorated with teapots, teacups, flower centerpieces, butterfly favor boxes, and "A Cup of Tea" placemats featuring Alpha Kappa officers.   
Members enjoyed a delicious breakfast catered by Betty Coffman.  The blessing was given by Susan Garrett. 
Angela Propst led the Pledge of Allegiance.  Donna Bodkins led devotions with "Put Spring in Your Spirit." She reminded members to renew their spirit and relationship with the Lord this spring.   
Opening remarks were given by JoAnn Gregory, WVSO president.  She recognized Vickie Skavenski, Vickie Saville, Jo Ann Harman, Rosanne Glover and Pam Boggs for their support and roles in the West Virginia State Organization of Delta Kappa Gamma. She also gave information about the upcoming WVSO State Convention April 21-23 in Flatwoods.  In closing, she shared that the new WVSO History is ready to be published.  As Gregory is serving another term, she is the last president in the previous history and will be the last president in the new history.  Vickie Skavenski, chapter president, presented Gregory with a basket full of local "West Virginia" treasures.  
Alpha Kappa had the following members recognized as local leading ladies: Glover, Sue Harper, Saville, Sharon Harr, and Ruby Alvaro. At the convention, Alpha Kappa will be sharing information on their various projects, the most recent being donations of school supplies for flood victims in Kentucky and the preparation of 56 journals for nursing students at Potomac State College and Eastern WV Community and Technical College. Saville designed a convention t-shirt with the motto "Educators Are Superheroes." 
 Harman spoke about the dedication of the Annette S. Boggs Educational Center at Jackson's Mill and the heart Boggs had for education. Saville suggested the chapter donate a tree or shrub in honor of Boggs, who was a member until her death.   
Skavenski awarded Susan Garrett of Hardy County the R.O.S.E award for her contribution to Alpha Kappa and organizing such a great meeting for the chapter.  
Glover led the singing of the Delta Kappa Gamma song. 
Members present were Amber Champ, Ann Bennett, Skavenski, Patty Adkins, Boggs, Propst, Becky Heavener, Beth High, Peggy High, Karen Davis, Judy Bowyer, Susan Garrett, Jessica Saville, Harr, Harper, Alvaro, Saville, Betty Inskeep, Elizabeth Mitchell, Glover, Harman, Yvonne Rowland, Missy Whetzel and Bodkins.