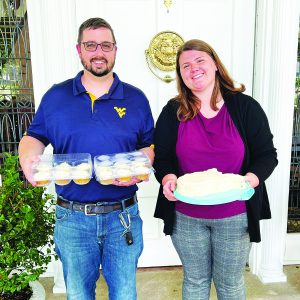 Franklin resident, Hayley Craig, was named one of seven finalists in First Lady Cathy Justice's West Virginia Birthday Cake contest. Justice announced the winners during the state's 159th birthday celebration June 20 at the Culture Center in Charleston.
Kim Wymer of Scott Depot took top honors with her "Ms. Van's Blackberry Skillet Cake," which is now the official birthday cake of West Virginia. It will be served annually on June 20 to commemorate the anniversary of West Virginia's statehood.
Craig's Apple-achian Birthday Cake won her a $100 Visa gift card and a participation certificate.
Each finalist was asked three questions. The questions, along with Craig's answers, were as follows.
Are there any special toppings or decorations that you would add to your cake?
I suggest varying the cake to reflect the changing seasons. One thing I love about West Virginia is that people truly have a connection to the land. Many people grow and raise their own food. One could easily substitute peaches for the apples. Strawberries, wild raspberries, or blackberries could also be substituted (cinnamon would not be added to the berries). For decorations, I slice, instead of dice, apples and use the same mixture in the cake. I then place the cinnamon-brown sugar apple slices around the cake.
Does your cake recipe have a special story? Is it a family recipe or a unique creation?
This cake recipe does have a special story to me. When I first saw the contest, I was ecstatic. As a native of West Virginia, I have always appreciated the geography of our Wild and Wonderful state. The mountains have always provided a sense of security for me. Because of that, this is a recipe that I have created inspired by the land of West Virginia. The honey, made by our state's insect, is made in my parents' backyard with their one little hive. The maple syrup, to represent our state tree, was tapped by my family and boiled down on our kitchen stove. The golden delicious apples, our state fruit, were used because it represents the amazing things that come from West Virginia. My family does not own a large farm or a business. We tap a couple maple trees, have a couple hives, pick fruit from the four or five trees on our property. We live off the land and this recipe represents the goodness that West Virginia brings to us.
Why do you think this is the best cake to honor West Virginia?
I think this cake is the best cake to honor West Virginia because I have spent a lot of time creating this recipe to reflect what West Virginia means to someone who loves this state so dearly. I grew up in rural West Virginia on top of the Appalachian Mountains. This state molded and shaped who I was. After getting married, due to some career circumstances for my husband, we moved to Maryland. We started careers and built a new house. But, all of that was not enough. We knew we had to get connected back to our homegrown roots. We sold our house, took pay cuts, and sacrificed a lot according to most people. Our friends and neighbors thought we were crazy. But being home, in our holler, listening to the creek and the wind brush the leaves, that is worth far more than anything to us. I have my dream job of teaching eighth grade social studies and WV History. Every day, I get to build pride and share the beauty of the state with young minds. Heck, I even made our honeymoon a road trip to visit 26 of the 35 state parks in a week. I say all of this to show that this cake was made by a native who loves West Virginia and is dedicated to pouring herself out to continue the traditions of the state. This recipe has all the love baked right into it. That is why I think this cake could truly honor West Virginia.
An Apple-achian Birthday Cake
Cake ingredients
3 Golden Delicious apples
1/2 tablespoon cinnamon
1/4 cup brown sugar
1/2 cup of butter
1/2 cup of brown sugar
2 eggs
1/4 cup of honey
1/4 teaspoon salt
1 tablespoon baking powder
2 cups of flour
1-1/2 cups of milk
Preheat the oven to 350°F. Grease two cake pans. Set aside. Peel and dice 3 Golden Delicious apples into small pieces. Add 1/2 tbsp. cinnamon, 1/4 c. brown sugar, and diced apples to a medium size bowl and stir thoroughly. Slightly mash apples and set aside. Cream 1/2 c. butter, 1/2 c. brown sugar, 2 eggs, 1/4 c. honey in a large bowl. In a separate bowl, whisk together 1/4 tsp. salt, 1 tbsp. baking powder, and 2 c. flour. Alternate mixing dry ingredients and milk into wet ingredients. Stir apple mixture into cake batter with a wooden spoon. Separate batter into the cake pans. Bake for 25-30 minutes. (It is ready when a toothpick entered into the center comes out clean.) Pull cakes out of the pan to cool for icing later.
Ingredients for cake icing or glaze:
1 cup softened butter
5 cups of powdered sugar
1/2 cup of milk
4 tablespoons of maple syrup
Cream 1 c. butter into a large bowl. Alternate mixing in 5 c. powdered sugar and 1/2 c. milk. Add 4 tbsp. of maple syrup and whip icing thoroughly. If necessary, add extra powdered sugar to thicken icing up or milk if the icing is too stiff. Place in the refrigerator until the cake is cool enough to icing.
All of the finalist cake recipes are available on the West Virginia Birthday Cake Contest webpage at https://governor.wv.gov/birthdaycakecontest.