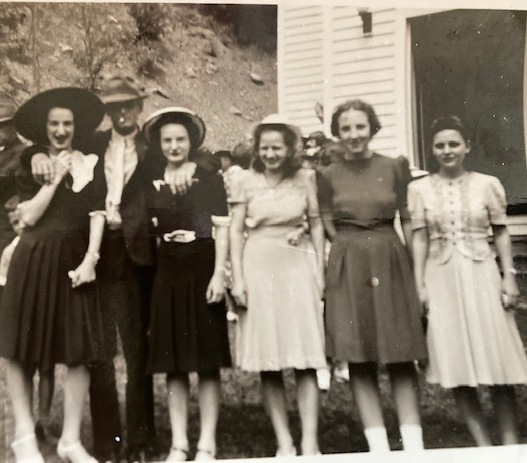 Sugar Grove
By Paula Mitchell
Farmers are not prone to use cow bells today. At one time, they were used to keep free roaming livestock so herders could keep track of an animal via the sound of the bell when the animal was grazing in pastures close home.  Even though they were typically referred to as "cow bells" due to their extensive use with cattle, the bells could also be used on a wide variety of animals, such as sheep and reindeer. 
They were not put on all cows, just one in a bunch. Usually, the tamest animal that stays around where one can find it, on which the cow bell was fastened, if it got loose, and where the bell could be loosened if it got too tight. When checking the herd, there was usually a leader and to that a cow bell could be put around its neck. Wherever that bell went, the herd was usually close to hearing distance of it.  
The herd would not leave that bell.  If one were to bring in the animals, they were to just catch the leader cow with the bell and drive it in to the fenced in area, leaving the gate open. The others would soon follow. As soon as they were all in, the gate would be closed. This was usually done for milking time, marketing purposes, or herd separation.  
Archaeological evidence of cow bells dates back to more than 5,000 years ago.  
There were various types of bells used in the farming days. The farm or patio bells were made of a rough cast iron alloy with a black finish and black hangings. The family caller and kid caller bells were of cast iron also, with painted antique bronze finish and black hanger. An eagle usually sat atop the mounting bracket. The cow bells were used primarily for livestock. It was also a popular noisemaker for parties, holidays and sporting events.  Many a cow bell has been heard at football games. Cowbells are often rung by human spectators at skiing events, and also, particularly in the United States at cyclo-cross races. They are usually held in the hand rather than worn around the neck. These bells were made of steel with a copper finish.  They have a beautiful clear tone.
So, hang on to those cow bells!
Life's daily instructions include the following:
Be thoughtful about opening doors and giving one's seat.

Say, "I'm sorry."

Be kind to others.

Use good telephone manners.

Respect the property of others.
This week's quotes are as follows:
"Don't wait for someone to bring you flowers. Plant your own garden and decorate your own soul." — Luther Burbank
"The trees will tell their secrets to those that tune in." — Steven Magee
"No problem is so formidable that you can't walk away from it." — Charles M. Schulz
"Let us be grateful to people who make us happy; they are the charming gardeners who make our souls blossom." — Marcel Proust.  
Weather has been interchangeable.  With that, it is better to be sitting by the fire to hear the "Talk of the Grove."
Connor Armstrong, son of Bobbie and Tracy Armstrong, had a 12th birthday on March 23. 
Saturday, Wes, Becky, Ben, Emma and Nathan Puffenbarger motored to Clarksburg to eat dinner at Primanti Bros.
Congratulations are in order for Marian "Pidge" Anderson who has retired after 32 years of contracting and carrying for the postal service. Due to her husband's health issues, she gave up delivering The Pendleton Times to county businesses after a year and four months.  
Robbie Nash of Palmer, Alaska, made a recent trip to Nashland to spend a few days with mom and sister, Helen and Rhonda Nash. He enjoyed attending the buckwheat pancakes and sausage gravy supper at Calvary Lutheran and a visit to the Dry Run Spirits Distillery and learning about the history of the Ananias Pitsenbarger farm from proprietor Jeff Munn.
Wanda Pitsenbarger and Evelyn Varner motored to Staunton, Virginia, to visit with Cleo Simmons.  
This week's clickety-clacks for the chin waggers are as follows:
Crickets breathe through lots of small holes that cover their body called spiracles.

In the first basketball games, a ladder was used to retrieve the ball from the basket after scoring.

Deer have been seen to play games like children.  The one that's "it" actually tags the other with its hoof.

The paper bag was not invented until 1850.  Before that, groceries were carried in a twist of paper called a "cornucopia." 

Thomas Jefferson invented the dumbwaiter and the swivel chair.
April birthdays are as follows: Charlee Marie Hoover, first; Willy Fisher, Judy Austin and Nancy Evick, second; Greg Hoover, third; Clem Rader, Jr. and Derek Crider, fourth; Wesley Puffenbarger and Danielle Hoover, fifth;  Davy Simmons and Keith Kiser, sixth; Margaret Sasscer, Wes Eye and Judy Rader, seventh; Maxine Rader, John Todd, Vera Teter, Josh Parker and Diana Mitchell, ninth;  Thelma Puffenbarger and Sherry Wilfong, 10th; Jim Holstein and Mike Alt, 11th; Ruth Craig, Lisa Dawn Jamison and Landon Bowers, 12th; Briar Puffenbarger, 14th; and Terry Simmons, Beth Propst, Frankie Roberson and Ava Bowers, 15th.  
Concerns for this week are many, and they are as follows: Charles Anderson, Roger and Joan Ashley, Mercedes Aumann, Vernon "Fuzzy" Baldwin, Nathan Beachler, Lynn Beatty, Debbie Beeal, Jed Conrad, Jeff Craig, the John Doores family, Grayson Andrew Eye, Jordan Eye, Mary Eye, Mia Felici, Donna Fleisher, Ron Gilkerson, Lola Graham, Jordan Greathouse, Marvin Hartman, Steve and Armanda Heavner, Gary and Jackie Hills, Virgil Homan, Jr., Myrtle Hoover, Debbie Horst, Anna Gae Hughes, Alice Johnson, Richard Judy, the Sue Carol Laskey family, Dennis Kincaid, Kim Kline, Melissa Lambert,  Robert Lambert, Rex Landis, Angela Lung, Linda Malcolm, Betty Mallow, Roger and Skip Mallow, Neil McLaughlin, Gary Mitchell,  Melvin Moats, Aaron Nelson, Ruth Nelson, Don Nilsen, Cheryl Paine, Sutton Parrack, Shirley Pratt, Alda Propst, the June Propst family, Kara Propst, Kathy Propst, Linda Propst, Sheldon Propst, K.D. Puffenbarger, the Ona Puffenbarger family, Dick Rexrode, Gary Rexrode, Harley Propst, Jason Rexrode, Jimmy Rexrode, Robbie Sites, Ona Smith, Sandra Vandevander, Pam Rexrode, Max Rodriguez, Donna Ruddle, Annie Simmons,  Barry and Phyllis Simmons, Davey Simmons, Amy Vaus, Judy Williams, the Crystal Willis family, Margaret Wimer, people in Ukraine and Yemen, earthquake victims in Turkey, victims of East Palestine, Ohio, and the victims of the Mississippi tornado.