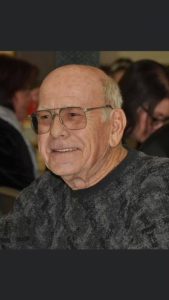 Clifton Eldon "C.E." Rogers, 87, of Old Fields passed away May 28, 2022, at Hubbard House in Charleston.
He was born on July 29, 1934, in Keyser, the son of the late Rev. Lowell and Rhoda (McDowell) Rogers. 
Mr. Rogers was a 1952 graduate of Keyser High School.
He retired after 27 years as a bus driver for Hardy County Board of Education. He was also a self-employed logger and trucker and had worked for G.P. Register. He owned and operated his motorcycle shop, CE's Place, for 40 years and was president and founder of CE's Helping Hands Motorcycle Group.
Because of his efforts after the flood of 1985, the WV Governor's Office awarded him the Distinguished West Virginian Award, a certificate of appreciation by the American Legion and a certificate of honor and heroism by the West Virginia Advocate.
He was preceded in death by his second wife, Arbutus Snow See Rogers, and his lifetime partner, Doris Martin. Left to honor his memory is his first wife, Shirley Berg Schaefer of Archdale, North Carolina.
Mr. Rogers leaves behind to cherish his memory three daughters, Tammy Young of Kingsport, Tennessee, Lisa Taylor (Albert) of Greenville, Georgia, and Jodee Cullers (Matt) of Arthur; three sons, Greg Rogers (Bonnie) and Roy Rogers (Heidi), all of Old Fields, and Aaron Curry (Brandy) of Kirby; and loving family and extended family of grandchildren and great-grandchildren.
He was also preceded in death by his "biker buddy and riding partner," Chopper; a brother, Delmar Rogers; and two sisters, Vivian Webb and Louise Cannon.
Funeral services were held Saturday in the chapel of the Basagic Funeral Home in Petersburg with Pastor Brad Taylor officiating. Interment was in Thrush Cemetery in Antioch. 
Memorials may be made to CE's Helping Hands, PO Box 82, Old Fields, WV 26845.
Memories and words of comfort may be left at www.basagic.com or on Facebook at Basagic Funeral Home.