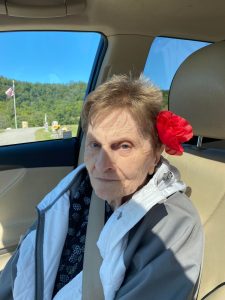 Clara Johanna Nelson, 87, of Franklin passed away Feb. 23, 2022, at Louisa Health and Rehab Center in Louisa, Virginia.
She was born on Aug. 12, 1934, in Baltimore, Maryland, the daughter of the late Charles and Clara (Kaniecki) Skotarski.
Mrs. Nelson attended school in Baltimore, Maryland. She was raised in the Catholic church and had attended North Fork Church of the Brethren. She had worked at the sewing factory and was a homemaker. Her passion was spending time with her family.
Her husband, Robert Jennings "Bob" Nelson, preceded her in death.
She leaves behind to cherish her memory a son, Robert J. Nelson of Baltimore, Maryland; a daughter, Joella Allen of Baltimore, Maryland; a sister, Dorothy Freeman of Baltimore, Maryland; five grandchildren; and five great-grandchildren.
She was also preceded in death by two sons, William and Charles "Chuck" Nelson; a daughter, Darlene Cox; a brother, Junior; a sister, Margaret; and two grandsons, Jason and Johnnie Nelson.
The family will receive friends from noon until 2 p.m. today at the Basagic Funeral Home in Franklin. Funeral services will follow in the funeral home chapel with Pastor Ezik Norris officiating. Interment will be in North Fork Memorial Cemetery in Riverton.
Memorials may be made to Franklin Volunteer Fire Department, PO Box 902, Franklin, WV 26807.
Memories and words of comfort may be left at www.basagic.com or on Facebook at Basagic Funeral Home.