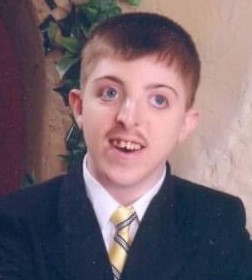 Charles Andrew Hedrick, 35, of Upper Tract went to his heavenly home on March 25, 2023, while a patient at Grant Memorial Hospital in Petersburg.
He was born Oct. 30, 1987, at Harrisonburg, Virginia, and was the son of David A. Hedrick and Wanda J. (Shreve) Hedrick of Upper Tract.
Mr. Hedrick was a 2009 graduate of Pendleton County High School, and was a West Virginia University Mountaineers fan, loved the Dukes of Hazzard, watching game shows and listening to music, especially country music.  He was a member of the Pendleton County CERT team, loved hugs and always liked to give good back rubs.
Also surviving are three brothers, William Hedrick (Shawna) and Benjamin Hedrick (Amberlee), all of Morgantown, and Matthew Hedrick (Tonia) of Brandywine; three nieces, Carrigan Hedrick, Corinne Hedrick and Layla Hedrick; and two nephews, Connor Hedrick and Gram Hedrick.
He was preceded in death by his maternal grandparents, B. Ottis Shreve and Clement (Kimble) Shreve; and his paternal grandparents, Arlin Hedrick and Catherine (Smith) Hedrick.
The family will receive friends from 6 – 8 p.m. Saturday at Kimble Funeral Home in Franklin. A funeral service will be held at 1 p.m. Sunday in the funeral home chapel with Rita Beeman officiating.
Memorials may be made to the Ruddle Park, c/o Pendleton County Commission, PO Box 187, Franklin, WV  26807.
Online condolences and memories may be shared at www.kimblefuneralhome.com.