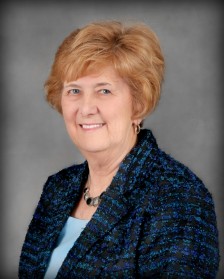 Carole Hedrick Hartman, 75, of Franklin passed away April 4, 2022, after a long and meaningful life of hard work and community involvement. 
 Ms. Hartman was born Oct. 18, 1946, to the late Guy and Twila McDonald Hedrick of Seneca Rocks. She graduated salutatorian of Circleville High School Class of 1964, after which she received honorary recognition from the University of Hard Knocks. 
She began her career as an independent insurance agent in 1965 and later became the owner of Pendleton County Insurance Agency in Franklin in 1989. She retired in 2014 but continued her lifelong vocation as a farmer on her beloved Harper Gap and Allegheny Mountain farms. 
She served as chairperson of the board of directors of Allegheny Bancshares, as well as having served on the board of directors for Pendleton Community Bank since 1990. She was secretary and treasurer of the board of directors of Mutual Protective Association of West Virginia. She was treasurer of the Thorn Spring Park Association and was elected Pendleton County Commissioner in 2018. As a commissioner representative, she also served on the Eastern WV Community Action Board as secretary and treasurer, West Virginia Workforce Investment Board and the Regional Broadband Council, among others. She served on the board of the Pendleton County Convention and Visitors Bureau, was president of the Pendleton Manor Auxiliary and participated in the local Salvation Army Chapter and Franklin Beautification Fund.
She had previously served on the board of directors for the Eastern WV Community & Technical College and the Pendleton County Democratic Executive Committee, as well as having participated in various service organizations, including Pendleton County Committee for the Arts, Potomac Highlands Wounded Warrior Outreach, Pendleton County Chamber of Commerce and the Potomac Highlands Recreation Center. She also previously served as recorder for Franklin Town Council.
A member of the Pendleton County Farm Bureau, she was awarded the Farm Bureau Service Award in 2019.
She was a member of both High Rock UMC and Walnut Street UMC, where she served as financial secretary. 
 Surviving are a daughter, Heidi Hartman and husband, Jonathan Diaz, along with grand-dog, Yogi, of Charlotte, North Carolina; a sister, Ann Bennett (Jack) of Seneca Rocks; nieces, nephews and cousins; and a host of friends. 
 She was also preceded in death by a sister, Carrie Hedrick Bennett of Columbia, Maryland; two brothers, Harman Hedrick and Harlan Hedrick, both of Seneca Rocks; and the father of her daughter, William "Bill" Hartman of Franklin. 
Mrs. Hartman was an active and integral part of her community. She never failed to help a friend or stranger and will be missed by many. In her memory, she requests that everyone practices acts of kindness and generosity toward one another. Her final act of service was her donation to the Human Gift Registry at the WV School of Osteopathic Medicine in Lewisburg. 
A celebration of life will be held at 2 p.m. Friday at the Basagic Funeral Home in Franklin. A private inurnment will be held at a later date at North Fork Memorial Cemetery. 
In lieu of flowers, memorials can be made to Pendleton Manor, PO Box 700, Franklin, WV 26807 or the charity of one's choosing.