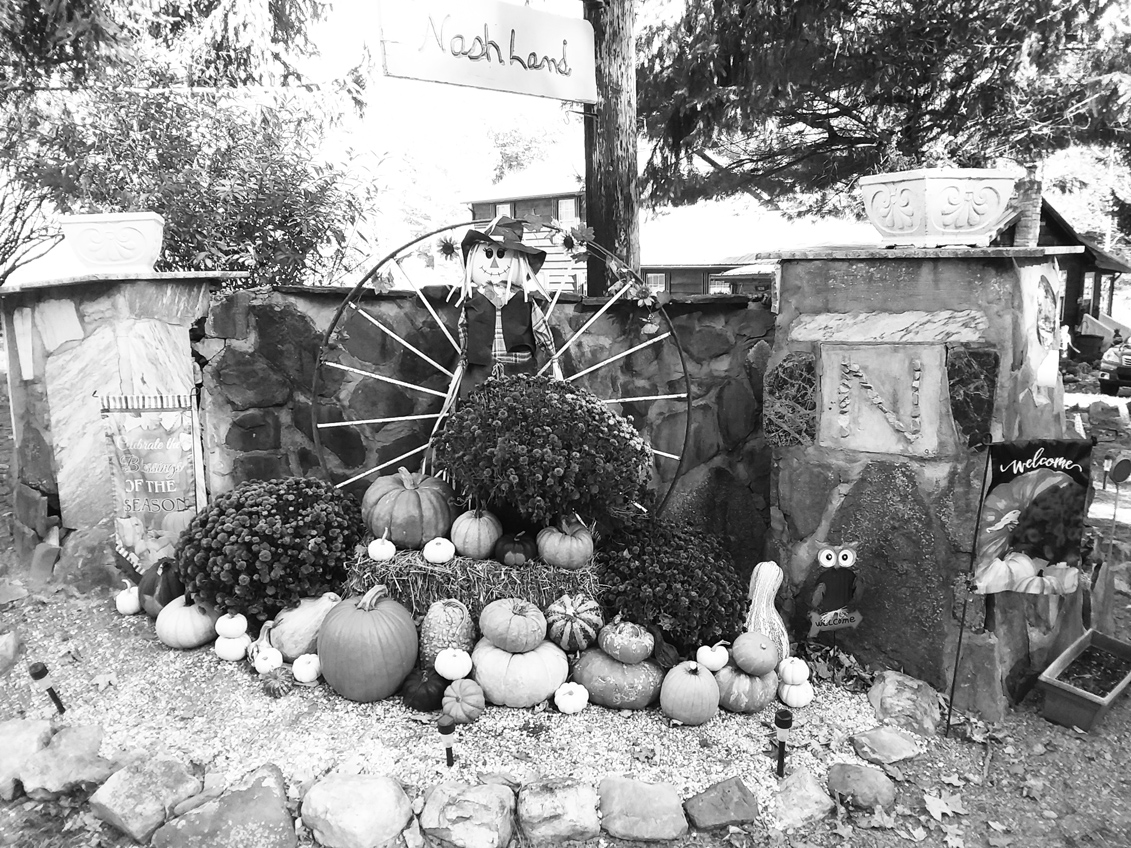 Sugar Grove
By Paula Mitchell
October is gilding her hills and hollows with gold; treasures that can't be hoarded. Each day brings added beauty. Leaf peepers are combing the area looking for the riches that money can't buy. They are motoring to Reddish Knob, down Dry Run, over to Monterey, Virginia, and then onto North Fork to enjoy the mosaics of autumn colors of brown, light orange, brilliant orange, yellow, brilliant yellow, greens of all shades, reds, and the scarlet color of the maples. There is a debate of where the best picture-perfect postcard dwells.  
Yellow leaves are falling into the slow-moving creek while yellow-eyed wild asters peer over the bank as if watching them float lazily along. Although the fall foliage has not reached its peak of color, it is changing slowly every day. Soon, one big kaleidoscope of color will blend harmoniously with each other. Ransler Mountain, sitting as a king, will soon be painted with the very essence of autumn.  
West Virginia is beautiful in any season, but October brings out the ultimate beauty. It is no wonder that folk come from near and far to surround themselves with tranquil beauty.   
October is sliding by smoothly, one golden day after another, as cooler weather moves in slowly. The nights have become nippier, and a warm blanket feels pretty good. Leaves are falling fast, and very soon the trees will be bare.
Having four seasons is a blessing in these hills. One could get bored with the same type of weather day after day, and the same type of beauty. That would undoubtedly be very boring, and one might not truly appreciate the coming of spring, the lush summers, the beauty of autumn, or the snows of winter.
October woods were made for wanderings and meandering walks through its mature beauty. Actually, it is a wonderful place to unwind from the cares of the day. Brown leaves crunch underfoot, and a breeze blows more scattering of leaves.  
Halloween appears to be on the forefront. Come what may, and how one celebrates Halloween, make it a safe and enjoyable time.
Since the weather has turned cooler, cooks everywhere are inspired to be in the kitchen. A delicious Apple Crisp could be in the making:
Ingredients:
2/3 cup brown sugar
1/2 cup self-rising flour
1/2 cup oats
3/4 teaspoon cinnamon
1/3 cup softened butter or margarine
1 can apple pie filling
Directions:  Stir all ingredients together except the pie filling. Spread one half of the mixture in the bottom of a greased pie pan. Dump pie filling on top. Cover with remaining mixture.  
Bake at 375 degrees for about 40 minutes, or until brown.  Serve with warm milk or ice cream.
Enjoy!
Life's little instructions include the following:
Return shopping carts to their destination.

Keep noise down.

Ask others to help.

Count to 10.

Read good books.
Monday morning temperature was read as 27 degrees, with a hard frost — the first of the season. Days are clear and the sun shines regally over the community. Gardens are over, with the cellars filled with canned goods. All is well in the Sugar Grove area.
This week's quotes are as follows:
"Autumn leaves don't fall, they fly. They take their time and wander on this their only chance to soar." — Delia Owens
"Anyone who thinks fallen leaves are dead has never watched them dancing on a windy day." — Shira Tamir
"No matter what, nobody can take away the dances you've already had." — Gabriel Garcia Marquez
"You cannot negotiate peace with somebody who has come to kill you." — Golda Meir
"Autumn is a second spring, when every leaf is a flower." — Albert Camus
Sitting by the fire is a good place to hear the "Talk of the Grove."
St. John Lutheran Church's potpie was a huge success with donations going to persons in need. 
John O. Propst is back at his home. He welcomes visitors and cards to his 1761 Sugar Grove Rd, Brandywine home.  
Robert and Nancy Hodges spent Wednesday night with Becky and Wesley Puffenbarger. They stayed with Nathan while Becky and Wes enjoyed watching the middle school football game in Petersburg. Emma is a cheerleader, and Ben played football.
Mike and Robin DelBiondo were Saturday visitors in the home of Willard and Judy Rader. Benny and Linda Custer, Willard and Judy Rader and Mike and Robin DelBiondo enjoyed a luncheon Sunday at Troy and Jennifer Eckard's and friends in Linville, Virginia, to celebrate Kayla Eckard's 14th birthday.
Rosalee Grogg enjoyed Sunday dinner with her family, Marleta and Junior Wimer, Terri Grogg, Claude Castleberry, Leana Leap, Clint Davis, and Hendix Bogan.
Brenda Fisher, along with Jimmy Rexrode, Patty Bolton, and Linda (Richard) Rexrode from this area, motored to the former Upper Tract Elementary School to enjoy their time together at their class of 1970 reunion. A fun time was had by all in attendance.
Clickety-clacks for the chin waggers are as follows:
A "jiffy" is a real unit of time.

Nearly one in six Alaskans are Native Americans.

Virginia Woolf and Charles Dickens wrote while standing up.

Originally, Macy's Thanksgiving Day Parade was known as a Christmas Parade.

Sugar cane originated in New Guinea and was domesticated approximately in 8,000 B.C.
November birthdays include Jack Bowers, second; Judy Waggy, Donna Hoover, Dr. Terry Harper, Roy Bowers, Tammy Propst and Ronnie Lambert, third; Robby Fisher and Rachel Price Rexrode, fourth; Marleta Wimer, and Danielle Grogg, eighth; Libby Hoover, ninth; Bill Pennybacker and Betty Wilfong, 11th; Bob Grimm, Lyle Hartman, Tonya Hedrick and Paul Mallow, 13th; Deyerle Rexrode, Erma Moats, Bella Eye and Kara Townsend, 14th; Pat Bodkin and Frenchie Moates, 15th; and Paula Mitchell and Brady McClannahan, 16th.  
Concerns for this week are many. They are as follows: Bob Adamson, Charles Anderson, Mercedes Aumann,  Lynn Beatty, the Nila Bland family, "Bo" Boggs, Kim Kline, Marie Cole, Jane Conrad, Jeff Craig, Norma Propst Cunningham, Christian Dasher, Bethany Eye, Isaac Eye, Marie Eye, Neal Eye, Donna Fleisher, Lola Graham, Jordan Greathouse, Patsy Green, Marlene Harman, Marvin Hartman, Steve and Armanda Heavner, Grace Hedrick, Jackie Hill, Edsel and Mary Ann Hogan, Virgil Homan, Jr., Adelbert Hoover, Myrtle Hoover, Debbie and Enos Horst, Alice Johnson, Richard Judy, Ruthlene Judy, Marsha Keller, Danny Kimble, Dennis Kincaid, Kim Kline, Tracie Knight, Melissa Lambert, Robert Lambert, Rex Landis, Angela Lung, Linda Malcolm, Betty Mallow, Roger and Skip Mallow, Neil McLaughlin, Rose Miller, Bruce Minor, Barbara Moats, Melvin Moats, Aaron Nelson, Ruth Nelson, the Benny Nesselrodt family, Don Nilsen, Cheryl Paine, Barbara Parker, Sutton Parrack,  the Jesse "Jay" Propst family, John O. Propst, Kathy Propst, Linda Propst, Harley Propst, Sheldon Propst, Mary Puffenbarger, Judy Rader, Charles Rexrode, Jason Rexrode, Jimmy Rexrode, Pam Rexrode, Donna Ruddle, Annie Simmons, Phyllis Simmons, Eva Simmons, Robbie Sites, Connie Sulser, Rosa Tichenor, Sandra Vandevander, Amy Vaus, Sheldon Waggy, Judy Williams, Ann Wimer, Junior Wimer, Margaret Wimer, Dana Yokum and the Israeli nation.