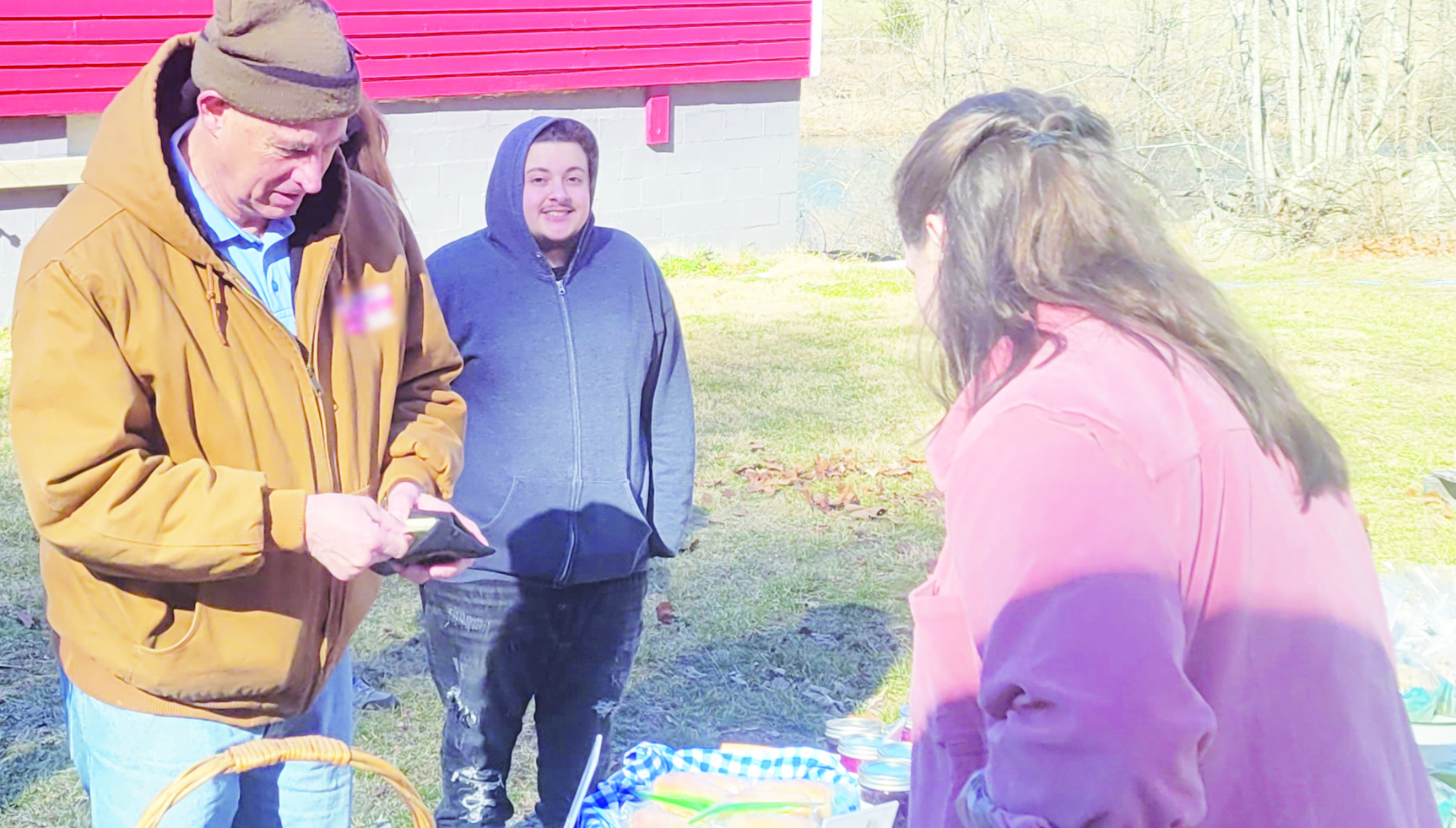 By Stephen Smoot
Future Generations University and the Pendleton County Farmers Market helped to kick off Mountain State Maple Days at McCoy's Mill last Saturday. The annual event held on the third Saturdays of February and March has emerged as the largest agritourism event in the state. Kent Leonhardt, West Virginia Commissioner of Agriculture, was on hand to observe demonstrations and praise the development of the industry in the region.
The event started at 10 a.m. under beautiful cobalt skies and with seasonable chilly temperatures. Organizers looked to demonstrate maple production, in some cases using equipment that those with welding skills could produce from spare parts at home.
Additionally, Future Generations discussed their work in exploring the production of different types of syrup and blends from native trees. Leonhardt explained, "They're blending sycamore and walnut with maple syrup. What a great way to help the small farms."  He also added, "It's right here in Pendleton County. What a great place to do it!"
Mountain State Maple Days takes place across the state, with participants most active in the mountainous eastern counties. Pendleton County had seven producers and five sellers sign up to be part of the event. According to Luke Taylor-Ide from Future Generations, "I'm really excited. Participation rates are higher than we've ever had before." 
He added that "historically, Maple Days do a lot to draw West Virginians into other parts of West Virginia." Taylor-Ide said that they expected to see more attendees from out of state this year.
While many focus on the sweet treats provided at each stop, maple's momentum in the Mountain State has many thinking bigger.
Leonhardt explained that because corn syrup has grown so expensive in recent years, authentic maple syrup has become more appealing. The high sugar content also gives it more shelf stability and creates less waste. 
Another practical reason to promote the product comes from the earning potential for landowners. "Timber goes up and down in price," Leonhardt stated, adding that "We have got trees that they can get a sustained annual income from," listing maple, sycamore, and walnut. Future Generations researchers explained how to tap syrup producing trees in such a way as to not harm their value as timber.
Taylor-Ide shared that work performed in the West Virginia mountains has put the state "at the forefront in a lot of ways" in terms of the evolution of the industry. He praised the commissioner of agriculture and his office, saying that "at every step, it's a partnership." State officials worked hand in hand with researchers and the industry, rather than imposing their own vision, as they established and adjusted regulations.
One producer in Pendleton County has incorporated maple production into an exciting and needed non-profit enterprise. Mountain Cajun Getaways in Circleville, run by United States Navy veteran Chris Grimes and his wife, Melissa, offers retreats for veterans with post-traumatic stress disorder and their families. 
Mountain Cajun Getaways invited attendees to see the production process and to also purchase finished products. These include a maple jalapeno glaze, glazed cashews, and a variety of other products with value added through innovative cooking. Melissa Grimes shared that "we have friends that put the glaze over pork and ribs."
"Whatever we sell funds and pays for activities," said Melissa Grimes. The organization pays all the expenses for families to come to the retreat. Next week, a visiting family will learn to obtain maple sap and produce syrup from it. Visitors often find that they don't want to leave. As Melissa Grimes explained, "I can't tell you how many people come to visit, then next thing you know, they're looking at Zillow," to find properties in Pendleton County.
All of this plays into what Leonhardt called "synergy." He stated that "the more we work together, the better we do," and added that through cooperation, maple syrup and value added products will continue to boost the local and state agricultural and tourism economies together.