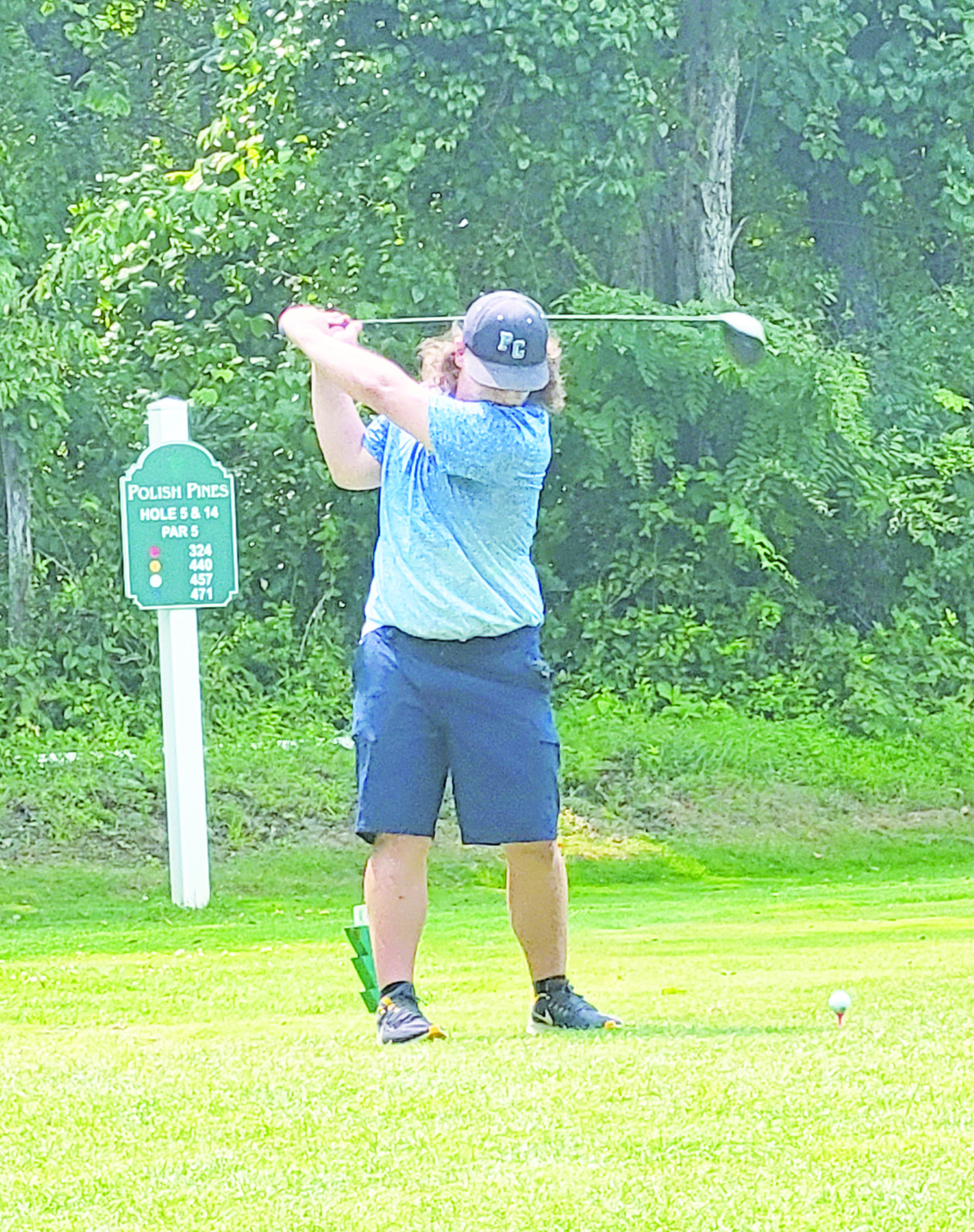 By Stephen Smoot
'Twas a tale of two courses, two days, and two sets of conditions under which to play golf in the oft unpredictable Potomac Highlands of West Virginia.
Day one at Keyser's Polish Pines course brought everything one might expect for a golf outing in high summer. The sun beat down in mid 80s out of a somewhat hazy sky. A listless breeze from time to time caressed the trees.
With many out for fair obligations on several teams, the list of players available was light. Cameron Beachler, the lone Wildcat contender in the state tournament last year competed, as well as Dylan Eye.
Under the summer sky, Beachler drove the ball well and worked on his putts during the 18 hole match.
The next day brought more players and more weather as Keyser returned the favor and visited Fisher Mountain. Besides the Wildcats and Golden Tornadoes, Moorefield and Frankfort also sent teams to the nine hole match. It served as what Pendleton County coach Charlie Burgoyne described as "a rematch of last year's state qualifiers," including the AA state champion Golden Tornadoes.
Fisher Mountain had a chillier greeting, with overcast skies, misty precipitation, and temperatures 20 degrees cooler than during the previous day's match. The players seemed to step from August to November in the span of 24 hours. 
From the Keyser squad came several who competed in a national tournament in Texas earlier in the summer. Drew Matlick, one of the Golden Tornadoes who competed in nationals, stated that "the quality of the two courses is fairly similar." 
For some, this served as their first taste of competitive golf. Before the match, sixth-grade golfer Beckett Aumann admitted that "I'm very nervous." Aumann started playing golf with his dad one and a half to two years ago, saying, "I just wanted to hit some balls." Then he came to play his first time at Fisher Mountain, prior to joining the team, and exclaimed, "It was really fun!"
He shared that "sometimes I could hit the ball really good and get self-confidence." He said that for him, hole 10 at Fisher Mountain with the water hazard was the biggest challenge.
Golf "is just a way to enjoy yourself and you don't have to get hurt," he said.
The competitors then heard some pre match instructions from Burgoyne, then broke into foursomes, climbed into their carts, and putted off to their allotted starting holes. Under the drizzly sky, they competed against the course, the elements, and themselves.
As the match ended and competitors returned to the covered porch beside the pro shop, the golfers discussed the action of the day.
Aumann said, "I didn't do too well, but I had so much fun! I got to sit and play and have fun with my friends."
A fellow middle school team member, seventh-grader Landon Davis, rated the day as "not too bad because I get to play here a lot." He then added, "The last hole that we played, I actually did good." Davis explained also that "the greens are a lot slower when wet and won't go straight."
Mason DiFalco, a sophomore, and his eighth-grade brother, Lucas, made Wildcat golf a family affair. Lucas said of the day, "It was fun!" despite hitting a ball in the water once. 
Mason DiFalco rated his own day as "not good," and explained that in the wet conditions "your ball plugs when you hit it."
Beachler, now a senior leader on the squad, described the younger performers' progress, saying, "They're progressing a lot, getting reps. It's been fun watching them progress these past couple of weeks."
Like his teammates, he found the saturated grounds challenging, explaining that "it's very tough. The main thing was divots and chunking a lot. It affected a lot of shots, distance-wise."
Pendleton County competes today at Fisher Mountain, hopefully with more congenial conditions.